Trump's maiden UN speech full of sound and fury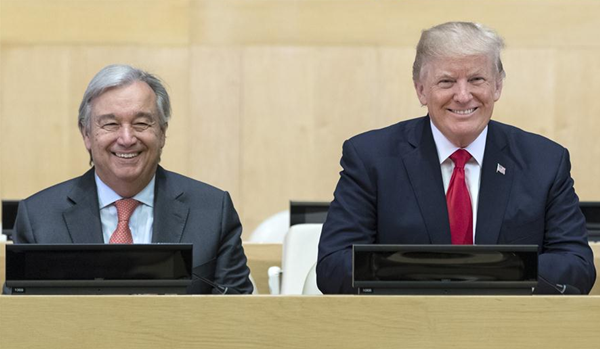 United Nations Secretary-General Antonio Guterres (left) and US President Donald Trump pose for a photo prior to a high-level UN reform meeting at the UN headquarters in New York, Sept 18, 2017. [Photo/Xinhua]
United States President Donald Trump, in his maiden speech at the United Nations General Assembly on Tuesday, was less forthcoming in his praise for the world body than his predecessor Barack Obama, indicating the US under his administration will pursue an all-for-itself approach that runs counter to the cooperative spirit of the world's foremost multilateral platform.
Trump was right that nations cannot remain bystanders given the common threats and challenges the world faces today, but cooperation cannot be shared self-interest, since for his administration that means a shared commitment to what is in the short-term interests of the US, rather than what is in the best long-term interests of all countries.
The pressing challenges the world faces today are not as the US misperceives threats to its hegemony, but rather poverty, epidemics, nuclear proliferation, terrorism and climate change.
What is needed is improved global governance, and the UN should be strengthened so that it can better fulfill its intended role in leading global efforts to address regional and international crises. Finger-pointing such as that indulged in by Trump will not help either of these processes and will only allow crises to ferment dangerously for an even longer time.
Trump called "rogue nations" the "scourge of our planet" and called on the UN to further isolate the Democratic People's Republic of Korea. But today's dangerous deadlock has been the result of Pyongyang's and Washington's persistent pursuit of their own interests in disregard of other countries' efforts to persuade the two antagonists to talk. His threat to "totally destroy" the DPRK if need be will, therefore, likely worsen the already volatile situation.
More needs to be done to improve the working style of the UN so that it can emerge from the shackles of bureaucracy and low efficiency, and better live up to its role as the defender of world peace and stability and the coordinator of nation-to-nation relations.
And in this time of "immense promise and great peril", Trump would have been better reflecting on how the US can more constructively engage with other countries, not just those that are willing to follow its lead. After all, since taking office in January, Trump has only exacerbated the confusion and uncertainty worldwide with his steady stream of contradictory tweets.
And he has withdrawn, or sought to pull out of, multilateral deals his country has signed before. From the Paris climate accord to the Iranian nuclear deal, Trump has demonstrated he is totally unconcerned about the US being good to its word.
Trump should accept that with great power comes great responsibility, and that as the world's sole superpower, the US has the responsibility to work with the rest of the world for the common good. History will show whether it is up to the task.