China's diplomacy in the Pacific is positive in nature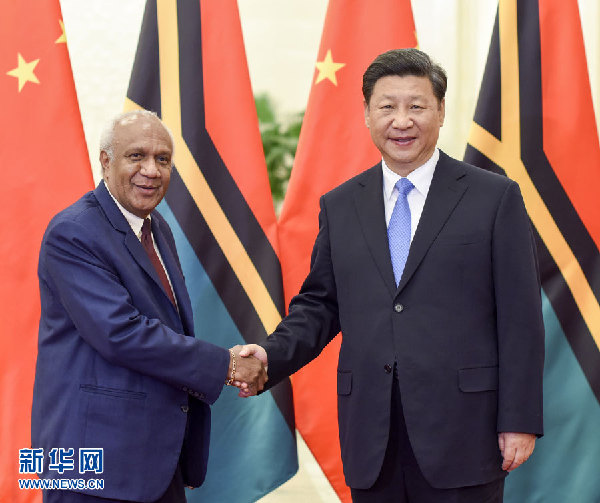 Chinese President Xi Jinping met with Vanuatu Prime Minister Sato Kilman in Beijing on Sept 1, 2015. [Photo/Xinhua]
A lot has been said about China's diplomacy in the Pacific region, but not as much positive role that China is playing in the development of the Pacific island countries has been mentioned. One viewpoint believes that what China is doing in the Pacific is aimed at trapping the Pacific island countries into a relationship which will in the future become more of a liability to the governments and states. This is mostly a Western framed argument.
Most of China's guiding principles for its foreign policy are based on its Confucius culture of universal peace and sharing, such as "doing unto others what you would have them do to you", and "in poverty one should hold himself to a high standard, when prosperous one should contribute to the well being of all". China holds dear the Five Principles of Peaceful Coexistence, which are the critical elements of China's foreign policy.
China is still a developing country and is one that has gone through aggression in its history. That's why China adopted a type of foreign policy that is to pursue independence and peace. Such path of peace will lead to greater mutual and inclusive development around the world. The fundamental rationale behind China's diplomatic relations with the Pacific island countries is based on peace, development, cooperation and mutual benefit.
Today China has become the second largest economy in the world. As China becomes economically influential, it is trying to demonstrate growing capability to contribute to international peace and maintain global order. China's help is widespread in the Pacific and it provides more development options to the Pacific island countries. China's activities are also based on its belief that the 21st Century is an era of globalization and interdependence where strategic network is forged with all the regions of the world to achieve universal peace and global prosperity.
And because of its growing significance as an international player, China will increasingly be called upon to contribute to finding solutions to the rising global challenges, such as terrorism, climate change, provision of development finance and so on.
China's President Xi Jinping embarked upon the Belt and Road Initiative. This is a policy that is aimed at increasing cooperation and connectivity through trade and people to people bond. It is a policy of open cooperation that makes for facilitating financial and economic integration. On recent Belt and Road Forum for International Cooperation, China pledged to provide positive support.
The Vanuatu Government sees the opportunity in its relations with China. China is helping Vanuatu in a few major projects, including National Convention Centre, Tanna-Malekula Road rehabilitation, Luganville wharf, Prime Minister's Office Complex, MSG Secretariat building, Korman Stadium and so on. Vanuatu must also be able to navigate in this policy and see what legislation and policy we need to have in place to take advantage of the opportunities that China has to offer.
China's assistance is becoming more and more evident to Vanuatu people who are now learning more about China's capability to positively contribute to our development aspirations. We speak highly of the growing responsibility that China must take up in a complex world. If China is going to continue to grow, we the nations of the Pacific must celebrate that as an opportunity and not as a threat to our region.
The author is Vanuatu prime minister's parliamentary secretary and a member of parliament.