China's policies on Asia-Pacific security cooperation
China's State Council Information Office on Wednesday issued a white paper on China's policies on Asia-Pacific security cooperation. Following is the full text:
Preface
I. China's Policies and Positions on Asia-Pacific Security Cooperation
II. China's Security Vision for the Asia-Pacific Region
III. China's Relations with Other Major Asia-Pacific Countries
IV. China's Positions and Views on Regional Hotspot Issues
V. China's Participation in Major Multilateral Mechanisms in the Asia-Pacific Region
VI. China's Participation in Regional Non-Traditional Security Cooperation
Conclusion
The Asia-Pacific region covers a vast area with numerous countries and 60 percent of the world's population. Its economic and trade volumes take up nearly 60 percent and half of the world's total, respectively. It has an important strategic position in the world. In recent years, the development of the Asia-Pacific region has increasingly caught people's attention. It has become the most dynamic region with the strongest potential in the world. All parties are attaching greater importance to and investing more in this region. With the profound adjustment of the pattern of international relations, the regional situation of the Asia-Pacific area is also undergoing profound changes.
China is committed to promoting peace and stability in this region. It follows the path of peaceful development and the mutually beneficial strategy of opening-up, and pursues friendly cooperation with all countries on the basis of the Five Principles of Peaceful Coexistence. It has participated in regional cooperation in an all-round way and taken active steps in response to both traditional and non-traditional security challenges, contributing to lasting peace and common prosperity in the Asia-Pacific region.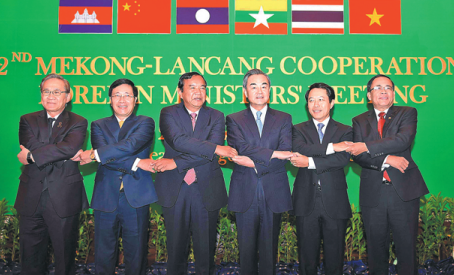 The 2nd Lancang-Mekong Cooperation Foreign Ministers' Meeting was held in Siem Reap, Cambodia on Dec 23, 2016. [Photo/Xinhua]
I. China's Policies and Positions on Asia-Pacific Security Cooperation
Currently, the situation in the Asia-Pacific region is stable on the whole, with a strong momentum for peace and development. The Asia-Pacific region is a stable part of the global landscape. To promote peace and seek stability and development is the strategic goal and common aspiration of most countries in the region. Political mutual trust among countries has been strengthened, and major countries have frequently interacted and cooperated with one another. To address differences and disputes through negotiation and consultation is the major policy of countries in the region. Regional hotspot issues and disputes are basically under control. The region has secured steady and relatively fast growth, continuing to lead the world in this respect. Regional integration has gathered pace, with booming sub-regional cooperation. Free trade arrangements in various forms have made steady progress, and a new phase has emerged for dynamic connectivity building. However, the Asia-Pacific region still faces multiple destabilizing and uncertain factors. The nuclear issue on the Korean Peninsula is complex and sensitive; the reconciliation process in Afghanistan remains slow; and disputes over territorial sovereignty and maritime rights and interests continue to unfold. Some countries are increasing their military deployment in the region, certain country seeks to shake off military constraints, and some countries are undergoing complex political and social transformations. Non-traditional security threats such as terrorism, natural disasters and transnational crimes have become more prominent. Asia's economy still faces significant downward pressure as a result of its structural problems as well as external economic and financial risks.
As an important member of the Asia-Pacific family, China is fully aware that its peaceful development is closely linked with the future of the region. China has all along taken the advancement of regional prosperity and stability as its own responsibility. China is ready to pursue security through dialogue and cooperation in the spirit of working together for mutually beneficial results, and safeguard peace and stability jointly with other countries in the region.
First, we should promote common development and lay a solid economic foundation for peace and stability in the Asia-Pacific region. To enhance the convergence of economic interests is an important basis for sound state-to-state relations. Common development provides a fundamental safeguard for peace and stability, and holds the key to various security issues. Considerable achievements have been made in economic cooperation. On this basis, we should accelerate the process of economic integration and continue to advance the building of free trade areas and connectivity as well as comprehensive economic and social development. We should implement the United Nations 2030 Agenda for Sustainable Development and narrow the developmental gap in the region, so that all countries and people of all social strata will enjoy the dividends of development, and the interests of countries will be more closely intertwined.
Focusing on common development, China has put forward and actively promoted the Belt and Road Initiative and initiated the establishment of the Asian Infrastructure Investment Bank and the Silk Road Fund. We welcome continued participation by all countries for mutually beneficial outcomes.
Second, we should promote the building of partnerships and strengthen the political foundation for peace and stability in the Asia-Pacific region. Asia-Pacific countries have unique diversities. Countries may become partners when they have the same values and ideals, but they can also be partners if they seek common ground while reserving differences. The key is to remain committed to treating each other as equals and carrying out mutually beneficial cooperation. How major countries in the Asia-Pacific region get along with each other is critical for maintaining regional peace and development. Major countries should treat the strategic intentions of others in an objective and rational manner, reject the Cold War mentality, respect others' legitimate interests and concerns, strengthen positive interactions and respond to challenges with concerted efforts. Small and medium-sized countries need not and should not take sides among big countries. All countries should make joint efforts to pursue a new path of dialogue instead of confrontation and pursue partnerships rather than alliances, and build an Asia-Pacific partnership featuring mutual trust, inclusiveness and mutually beneficial cooperation. China calls for the building of a new model of international relations centered on mutually beneficial cooperation. China is committed to building partnerships in different forms with all countries and regional organizations. China has committed itself to working with the United States to build a new model of major-country relations featuring non-conflict, non-confrontation, mutual respect, and mutually beneficial cooperation. China is committed to deepening its comprehensive strategic partnership of coordination with Russia and establishing a closer partnership with India. It is also pushing for the improvement of its relations with Japan. Chinese leaders have repeatedly elaborated on the concept of a community of shared future on many different occasions. China is working to construct a community of shared future for countries along the Lancang-Mekong River and between China and the Association of Southeast Asian Nations (ASEAN) as well as in Asia and the Asia-Pacific area as a whole.
Third, we should improve the existing regional multilateral mechanisms and strengthen the framework for supporting peace and stability in the Asia-Pacific region. All parties concerned should adhere to multilateralism, oppose unilateralism, further support the development of regional multilateral security mechanisms, push for close coordination between relevant mechanisms, and play a bigger role in enhancing mutual understanding and trust, and expanding exchanges and cooperation in the field of security dialogues.