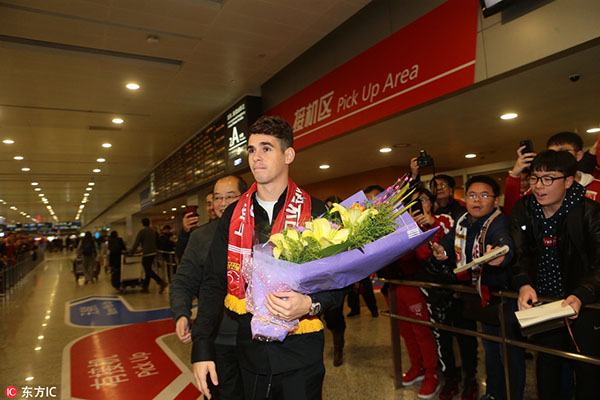 Brazilian international midfielder Oscar arrives in Shanghai on January 2, 2017 to join the Shanghai SIPG club. [Photo/IC]
China aims to become a global power in science and innovation, and a force on the soccer field. To fulfill its goals, the country has been busy attracting world-class scientists, not to mention star soccer players and coaches.
Prominent scientists, however, are not as expensive as soccer stars.
At the beginning of New Year, 27-year-old Belgian midfielder Axel Witsel grabbed the headlines saying it was difficult to refuse an €18-million ($18.9 million) a year paycheck from Tianjin Quanjian, a club recently promoted to China's top league. Witsel told the media that he found it difficult to refuse the "crucial offer for his family", which will mean a weekly salary of about €300,000.
The price tag on a foreign coach can be even higher. Italian coach Marcello Lippi will reportedly be paid €20 million a year as the manager of China's national team for the next three years.
The two deals, not surprisingly, have sparked heated public debates in China. Some have used social media platforms to say that in a country where many people still live in poverty, such huge amounts of money should be spent more wisely. Some have said it is encouraging to see China attract good players and coaches, but the costs are too high while others say they are fair.
Pessimists, however, doubt whether foreign players and coaches such as Witsel and Lippi can create miracles for Chinese soccer, which has been disappointing for years. Soccer fans, too, have reasons to question the process as the predecessors of Lippi and Witsel have almost all failed to improve Chinese soccer.
Over Christmas, English Premier League club Chelsea announced it had sold Brazilian midfielder Oscar to Chinese Super League side Shanghai SIPG for a staggering fee of £60 million ($73.7 million).
But to improve China's standing in the soccer world, authorities have to take decisive strategies and actions. China should start building a sound and healthy environment for the development of soccer, if it wants to participate in the World Cup, not to mention host or win it one day.
China has made some progress on this front, though. It has strengthened regulations for the Soccer Super League, decided to have 50,000 soccer coaches for schools and establish 15,000 soccer schools nationwide by 2020. It has also decided to follow the patterns which enabled it to achieve economic miracles: attracting foreign capital, management experiences and technologies.
At the end of 2016, China even signed its first soccer partnership with Germany, showing its determination to learn from the world's most competitive players.
And since against this background, Belgian star Witsel will ply his trade in China, he should realize that many believe he will help Chinese soccer players to become more competitive in the world. Therefore, Witsel will not only be playing soccer but also sharing his soccer knowledge with players in China.
Witsel doesn't have to look far to find an excellent example of coach and sportmanship. Wang Dayong, famous Chinese table tennis coach trained Jean-Michel Saive, former No 1 table tennis player and a household name in Belgium. Wang is now busy coaching Belgian youngsters without thinking about payments because, he says, it is not a good thing for table tennis that half of the top 100 players of the world are from China.
Wang and Saive, who is seeking support to run for the presidency of the International Table Tennis Federation, believe sports transcends competitions and borders. And as a cross-border player or coach, Wang is an ambassador of sports.
Hopefully, Witsel will talk with Wang and Saive, not only to know more about China, but also to learn how to be a true ambassador of sports, especially soccer.
The author is deputy chief of China Daily European Bureau. fujing@chinadaily.com.cn