China to strengthen its grip on soccer supply chain in 2017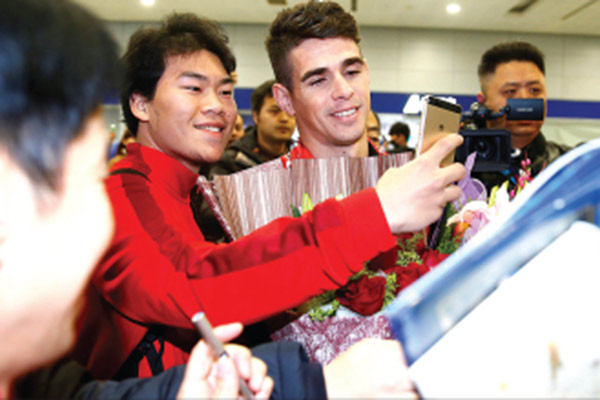 Brazilian international midfielder Oscar arrives in Shanghai after joining Shanghai SIPG from Chelsea. [Photo/Reuters]
China's increasing influence in the world of soccer is becoming harder to ignore, even among fans with little interest in the business side of the beautiful game.
Home fixtures at one of Europe's elite clubs, for example, will soon provide visibility to one of China's biggest brands. Next summer, Atletico Madrid will relocate from the iconic Vicente Calderon Stadium and usher in a new era at the 67,000-capacity Wanda Metropolitano.
Chinese investment into the game-at home and abroad, from top down to bottom up-is both dizzying and ambitious. Those who scoff at China's aspirations to win a World Cup in the coming decades should take note of fellow minnows in the FIFA rankings, Iceland. The two countries could scarcely be more different-China has almost 4,200 times as many inhabitants as the frigid northern island, which doesn't even have a fully professional league. However, after a well-organized and funded 16-year national program for grassroots soccer, the country reached the quarterfinals at 2016's European championships.
In January, Nanning will host the inaugural China Cup, the first international soccer tournament to take place on Chinese soil, and the passion project of the country's richest man, Wanda Group's chairman, Wang Jianlin.
The invited nations represent the kind of success stories China would like to emulate in the not-too-distant future. Iceland will play, along with Chile and Croatia, two countries that know something about punching above their weight in international soccer.
China's grassroots program is huge in scale. By 2020, President Xi Jinping wants 20,000 specialist soccer schools and 70,000 pitches constructed, and between 30 million and 50 million schoolchildren regularly playing the game.
In 2017, transfer records into the domestic league will continue to be broken. Chelsea star Oscar's recent move to Shanghai SIPG eclipsed the 45 million pound ($55 million) fee the club paid for fellow Brazilian, Hulk.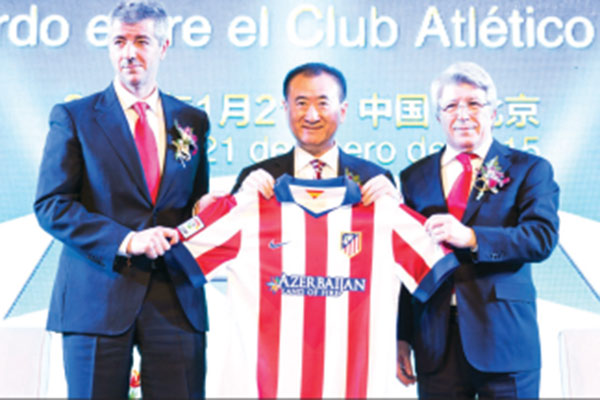 Wang Jianlin (center), chairman of Dalian Wanda Group, with senior members of Atletico Madrid's management. [Photo/China Daily]
And Chinese companies will continue to buy up European soccer clubs to broaden their investment portfolios, strengthen their brands and, crucially, gather knowledge. The purchase of a minority stake in Manchester City in 2015 was one such "acquisition of competence" and Liverpool may be next.
Paul Rawnsley, director of Deloitte's Sports Business Group, predicts that British clubs will continue to appeal as the Premier League's record-breaking TV payouts come into effect. He says that, with the new UK government's promise to employ a more stringent approach to foreign investment, clubs can expect a more diligent approach from Chinese investors.
"What we've heard from some commentators was that the strategy of potential investors has not always been apparent," he told China Daily. "Now, we're seeing more strategic reasons, beyond a response to President Xi's call for a focus on football. What we may see going forward is perhaps fewer investors but with a more sophisticated approach."
For soccer business expert Professor Simon Chadwick of Salford University, more is to come.
"More brands will move into sponsorship, including at least one FIFA deal," he predicted. "Look forward, too, to the acquisition of intermediaries, such as agency and rights management businesses. We will see media, digital and social investments as China takes us closer to a sports-entertainment alignment."
For Chadwick, the depth and breadth of Chinese investment in football is unprecedented.
Most Popular
Highlights
What's Hot