UK real estate a magnet for HK, mainland investors
Updated: 2017-01-04 07:47
By Oswald Chan in Hong Kong(HK Edition)
| | | | | | | | | |
| --- | --- | --- | --- | --- | --- | --- | --- | --- |
|   | | Print | | Mail | | Large Medium  Small | 分享按钮 | 0 |
Contrary to expectations, institutional investors and private family offices from Hong Kong and the Chinese mainland are stepping up their exposure to properties in the United Kingdom, which is seen as a safe haven that offers stable cash-flow returns deemed important in a highly uncertain global investment market.
While Britain's shock decision in June last year to abandon the European Union has not put off global capital flooding the country's homes market, investors are also cashing in on the UK's status as a renowned tourist attraction and mainland retailers' growing presence there.
Real-estate analysts said there was abundant market liquidity last year as institutional investors poured their money into properties.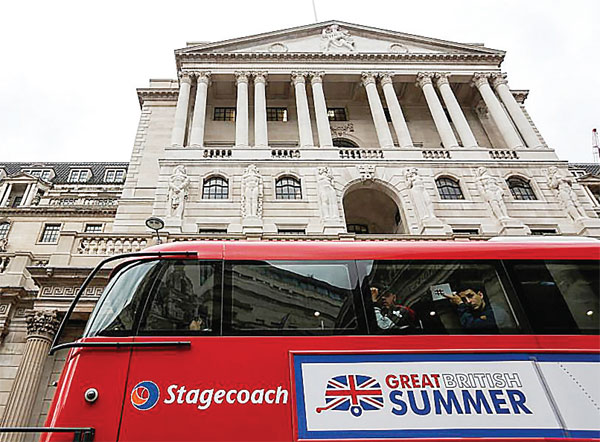 A bus with an advertisement featuring a design depicting the Union Jack, passes the Bank of England in the City of London. Institutional investors from Hong Kong and the Chinese mainland remain confident and have plowed money into the UK real estate despite Britain's vote to exit the European Union in June last year. Luke MacGregor / Bloomberg
According to global real-estate advisory firm Jones Lang LaSalle (JLL), the Chinese mainland overtook the United States to become the largest cross-border real-estate investor in the third quarter of 2016, having invested nearly $18 billion in commercial property assets worldwide in the first three quarters of the year.
"Investing overseas is a strategic move for most mainland investors and we expect few long-term structural changes," said Stuart Crow, JLL's head of Asia Pacific Capital Markets. "The trend of mainland capital being sunk into real estate has not abated, and will further gather momentum due to the mainland's enormous capital base."
Another real-estate advisory firm DTZ/Cushman & Wakefield said close to 74 percent of respondents in a recent survey, in fact, felt that post-Brexit represents a good opportunity to invest in UK properties in the next five years.

The poll on Chinese outbound investors' intentions in 2016 was aimed at gauging mainland investors' perceptions of overseas property investments.
The investors surveyed said that, on average, they currently allocate 10 percent of their total overseas funds to the UK property market.
In dollar terms, the UK's property market accounted for 6 percent of mainland outbound investments by transaction value in the first eight months of last year, according to data from Real Capital Analytics - a global real-estate analysis firm.
Besides mainland investors, those from Hong Kong are also very much attracted to investing in various forms of properties in the UK, especially after the Brexit vote, which caused the sterling exchange rate to plummet, rendering UK property investments cheap.
Among various property sectors, institutional investors and Hong Kong-based family offices are increasingly interested in the UK's retail property segment, taking advantage of the country's popularity as a major international tourist destination.
New West End Company Group (NWECG), which represents more than 600 retail businesses located in over 25 streets in London, including Bond Street, Oxford Street and Regent Street, has so far drawn more than HK$8 million from Hong Kong investors. After having received an upfront investment, the company will deliver management and marketing services, as well as public realm enhancement in the shopping district.
"Some 12 percent of retail properties located in London's West End area are owned by Hong Kong institutional and private investors, underscoring robust demand for UK retail properties, with rental yield from properties in the UK higher than Hong Kong's," David Shaw, property steering group chairman at NWECG, told China Daily.
With the projected opening of the London metro's Elizabeth Line late next year, the West End shopping district is expected to attract 260 million visitors each year by 2020 - up 30 percent, compared with the current annual figure of 200 million visitors.
This retail shopping area is tipped to contribute 11 billion pounds to the UK's gross domestic product (GDP) in 2020, according to NWECG.
An additional 2.5 million square feet of new and refurbished commercial facilities is also due for completion by the end of 2018. Last year, more than 40 new stores opened in the West End area.
Another key asset in UK retail property investment is the increased desire of mainland retailers to establish their presence in UK retail areas.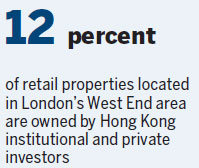 "Attracting investments from overseas retailers and property investors in London's West End is an important new focus of our business. We envisage different spectrums of Chinese mainland retailers making their footprint in the West End region," said NWECG Chief Executive Jace Tyrrell.
During last year's Chinese "Golden Week" holidays in September, sales generated in the West End shopping district skyrocketed 300 percent, compared to the same period in 2015. Mainland visitors pump about 337 million pounds in additional revenue into the UK's GDP every year, NWECG data showed.
Hong Kong and mainland property investors, however, have been warned of the business risks associated with the cyclical nature of retail-property investment.
"The UK property market is a cyclical one which is determined by occupation demand, investment appetite for income streams; as well as demand for and supply of retail space," Shaw cautioned. "If there're any political and economic uncertainties, the market could result in a material correction."
DTZ/Cushman &Wakefield said mainland investors it had surveyed are not interested in the UK's retail and leisure properties, while 80 percent of them are interested in office assets as this segment offers stable cash flow due to the typical long-lease period and straightforward asset management in office property investment.
oswald@chinadailyhk.com
(HK Edition 01/04/2017 page9)