Strategies for addressing demographic challenges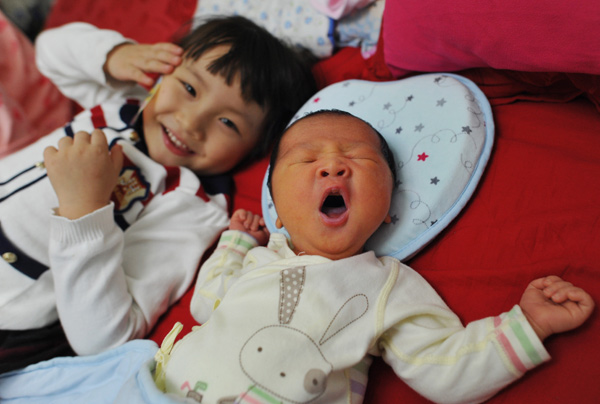 A girl plays with her newborn brother at a hospital in Nanjing, Jiangsu province,on Oct 24. 2014. [Photo/VCG]
As China hopes to resume a high rate of economic growth, the role of demography has become increasingly uncertain and complex.
The good news is that China's population is heavily concentrated at the most highly productive working ages. A just-completed study commissioned by the United Nations shows China is very near its historic high achieved in 2013.
The bad news is that China's demographic advantage will disappear rapidly as its population ages and shifts out of the working ages. Over the next 10 years, the shift out of the working ages, other things remaining equal, will depress annual growth in per capita income by 0.9 percent both on the Chinese mainland and in Hong Kong.
To align its economic ambitions with its demographic realities, using a three-pronged strategy is the best hope.
The first is realizing a second demographic dividend. Since 1971 economic growth in China has benefited from what is known as the first demographic dividend, the shift of the population into the age group when people produce more than they consume. Although the first dividend benefits ended in 2013, China is benefiting from a second demographic dividend, as resources generated by the first dividend are redirected into higher investment and human capital spending, that is, spending on healthcare and education. Judged from a very macro perspective, China has been hugely successful in realizing a second demographic dividend.
Savings and investment rates, and spending on education in China are among the highest in the world. What remains to be seen, however, is whether greater investment in physical and human capital will effectively fuel high rates of economic growth.
The second is improving economic opportunities for the elderly. The extent to which the elderly contribute to and consume national output varies considerably from country to country. Compared with other upper-middle income countries, senior citizens in China have high consumption and low labor income relative to prime-age adults. This is an unattractive condition for a country about to experience rapid population aging.
Consumption by the young elderly in China is similar to that of prime-age adults as is typical of other upper-income countries. But labor income for the elderly in China is quite low. By age 60, the average adult has labor income equal to only 23 percent of the average labor income of adults in the 30-49 age group. By comparison, the average value for 60-year-olds in upper-middle income countries is 61 percent, nearly three times as high. By age 70, average labor income in China drops to 7 percent of the labor income of 30-49-year-olds as compared with an average of 24 percent for upper-middle income countries. A variety of strategies can be pursued to raise the low labor income of China's elderly, such as, continuing education programs, scrutiny of age discrimination on the part of Chinese companies, and further relaxation of mandatory retirement ages.
The final strategy is abandoning outdated approaches to population policy. Rapid and severe aging is a consequence of low fertility. Scholars and policymakers recognize fertility is too low in China and could fall to much lower levels. And although the one-child policy has been abandoned, the new two-child policy will almost surely fail to boost fertility to a desirable level.
Our recent study indicates a fertility rate of about 1.7 births per woman leads to the highest standards of living while a very low fertility rate, 1.4 births per woman or lower, leads to substantially lower standards of living. The two-child policy will lead to lower standards of living because many couples will choose to have only one child or none at all. So, their low fertility must be balanced by couples who wish to have more children. The desire among some couples to have more than two children must be accommodated, even encouraged, if China is to successfully meet the demographic challenges that will slow economic progress.
The author is a professor of economics at University of Hawaii and a senior fellow at East-West Center.