Proposed law to restore an ancient Chinese virtue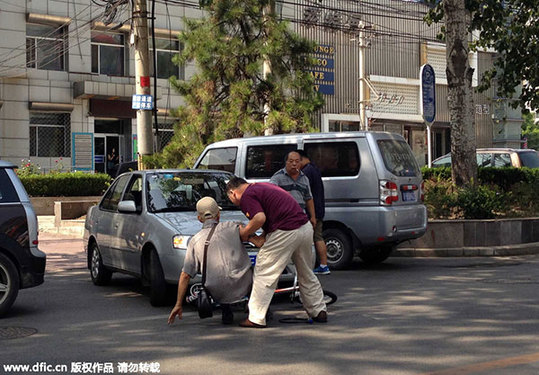 A passerby helps an old man who was hit by a car, in Beijing, Sept 9, 2014. [Photo/IC] 
It looks as if China is on track to see its first national Good Samaritan legislation, and not a moment too soon.
Foreign observers should be seeing people practicing the ancient virtue of helping others in need. Regrettably, they only see those unwilling to help others in need of emergency lifesaving assistance, from a small child wandering into a heavily trafficked highway to an old granny or grandpa who has fallen and can't get out of harm's way.
The truth is that it's not necessarily that people here don't want to help but that they are fearful to be subject to extortion by those who appear to be in need, but aren't; or those who see a chance for easy money since several Chinese courts have ruled that nobody would come to the aid of another person unless they themselves caused the injury.
The latest draft of the General Rules of Civil Law submitted to the Standing Committee of the National People's Congress (NPC) for a third reading, stipulates that Good Samaritans shall not be held legally liable by helping someone in need, except in cases of gross negligence. Passage of the law could come as soon as the NPC's March session.
In my opinion, the draft, although not perfect, is a much needed and excellent start on the national level. As proposed, the new law puts a very high burden of proof on the purported "victim" who has the burden of proving that the rescuer acted so carelessly as to recklessly disregard the safety or life of the person being rescued, and is so great that it appears to be a conscious violation of the other person's rights to safety.
This in itself should deter most of the larcenous social parasites who have preyed on the goodness of others. They have wrecked the lives of some and caused the suicides of others. Still, I believe the law must go further.
Chinese people like to gamble and some of these fake victims might be willing to role the dice and take their chances. As enacted in one of the very few local Good Samaritan laws, Shenzhen's Good Person's Law goes further by providing penalties for people who have falsely accused others. Future legislation should also include the provision that damages to be paid by the accuser be awarded to the Good Samaritan for legal fees, loss of income and reputation. I think that this added deterrence will further prevent this despicable behavior.
A significant publicity effort will have to be mounted after the passage of the new law. People will have to be aware the law has changed and that they can now rest easy when coming to the aid of others in need. This should include PSAs, as well as publicity that shames false accusers.
And while I greatly admire the parable of the Good Samaritan after which most of these laws are named, because the victim was Jewish, like me, I think in China such laws should be called Lei Feng laws after the legendary soldier who selflessly helped others.
The Lei Feng Law would help restore an ancient Chinese virtue, and foster a more harmonious society at home.
The author is a senior featured contributor of China Daily website.