US behind the arms buildup in Asia-Pacific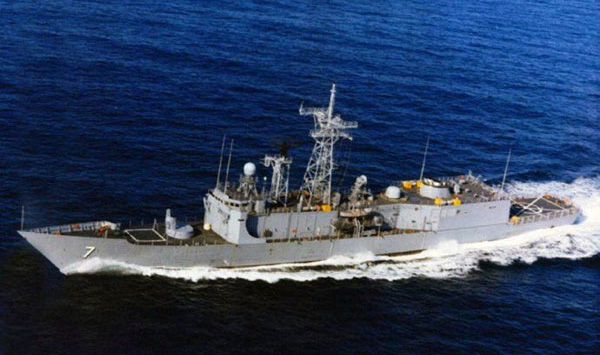 The photo shows an Oliver Hazard Perry class frigate. [File photo]
According to the Stockholm International Peace Research Institute, global transfers of arms increased by 8.4 percent between 2012 and 2016 compared with the previous five years, the highest of any five-year period since the end of Cold War in the early 1990s.
The United States remains the top arms exporter during the period, accounting for nearly one-third of all exports, followed by Russia (23 percent) and China (6.2 percent).
China's arms exports have jumped 74 percent over the last five years, compared with the 2007 to 2011 period, so it's no surprise that is has drawn the attention of global observers of the arms trade.
Especially as the latest report from the London-based International Institute for Strategic Studies said China is reaching "near parity" with Western nations in terms of military technology, leading to "an emerging threat" for Western forces deployed overseas where their adversaries might operate more advanced military systems imported from China.
According to a 2014 report from the Stockholm International Peace Research Institute, China became the third-largest supplier of arms between 2010 and 2014, and a significant percentage (just over 68 percent) of its exports went to Pakistan, Bangladesh and Myanmar. It has also improved its capabilities to substitute arms imports with indigenous products.
However, despite its military advancements in recent years, China remains committed to the three principles enshrined in its arms exports regulation: They should be conducive to the self-defense capability of the recipient country; they should not damage regional and global peace, security, and stability; there should be no interference in the internal affairs of the recipient country. Its arms sales to other countries are not beyond normal trading and it still lags far behind the US in terms of total arms export.
The increasing demand from Asian countries, as the latest report by the Stockholm International Peace Research Institute shows, is indeed noteworthy. Imports by Southeast Asian countries went up 6.2 percent over the periods 2007-2011 and 2012-2016, during which Vietnam's arms imports increased by over 200 percent, fueling concerns about an arms race in the Asia-Pacific area.
It is impossible to turn a blind eye to Washington's role as an enabler in this. Apart from offering traditional military aid to its Asian allies including Japan, the Republic of Korea, and the Philippines, the US under the watch of Barack Obama vigorously pushed forward a rebalancing to Asia-Pacific strategy at the risk of provoking China.
Such an approach has involved closer defense cooperation with its allies, ranging from frequent joint drills and freer exchanges of intelligence to exports of cutting-edge arms equipment. The rising tensions on the Korean Peninsula have also prompted regional powers to enhance their military buildup and double their defense spending.
For years, China's defense budget has been around 1.5 percent of its GDP, and it is poised to keep it that way. In contrast, NATO is urging its member states to contribute 2 percent of their GDP to their defense projects. Accusing Beijing of threatening global stability or sponsoring regional arms race simply does not hold water.
Fan Jishe is a researcher of US studies at the Chinese Academy of Social Sciences. The article is an excerpt from his interview with China Daily's Cui Shoufeng.