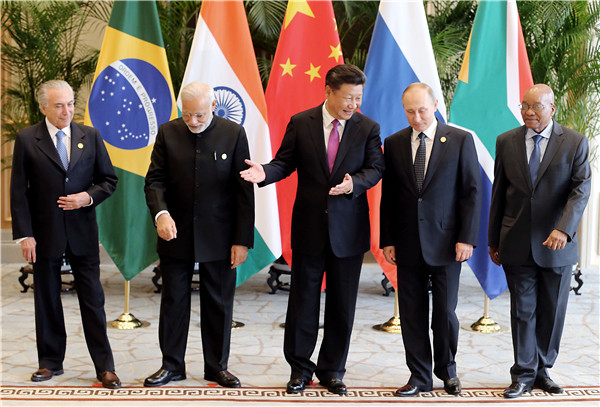 Leaders of BRICS countries -- Brazil, Russia, India, China and South Africa -- pose for a photograph on Sept 4, 2016. [Photo by Xu Jingxing/China Daily]
Leaders of BRICS (Brazil, Russia, India, China and South Africa) held an informal meeting on Sunday morning before the G20 Summit began in Hangzhou, East China's Zhejiang province, and vowed to coordinate their policies, increase communications, deepen cooperation and jointly tackle challenges.
The meeting came at a time when BRICS faces the risk of retrogressive, rather than progressive, cooperation because of new, intricate circumstances. The "competition and cooperation" games developed and emerging economies play on the geopolitical, geo-economic and other fronts, despite being different from those between the two major camps during the Cold War, highlight the need for strengthened coordination and cooperation among BRICS members.
Mounting uncertainties created by political changes or recession in some BRICS countries and Western economies' attempts to exploit potential dissensions to create chasms among BRICS members-such as the United States' efforts to cozy up to India and hype up unresolved issues between New Delhi and Beijing, have also made it necessary for the five nations to communicate regularly, enhance mutual trust and dispel misgivings.
As President Xi Jinping said in his speech at the meeting, the rise of emerging economies and developing countries is one of the greatest changes in international relations, and thus BRICS members, both as leaders of emerging markets and developing countries and important members of the G20, should strengthen coordination and cooperation to support the development of the two important platforms so that emerging and developing economies can play a bigger role in international affairs and global governance.
BRICS members face a generally stable external environment but rising uncertainties. Under these circumstances, BRICS should proceed with more confidence, tap development potentials, increase solidarity and deepen mutual trust and cooperation to better tackle possible problems and challenges.