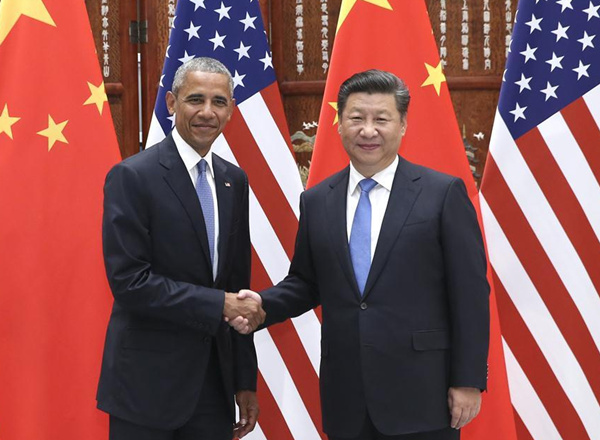 Chinese President Xi Jinping (right) meets with US President Barack Obama, who is here to attend the G20 summit, in Hangzhou, capital city of east China's Zhejiang Province, Sept 3, 2016. [Photo/Xinhua]
During a meeting on the sidelines of the G20 Summit in Hangzhou, capital of East China's Zhejiang province on Sept 4-5, President Xi Jinping and US President Barack Obama confirmed that the two countries have made significant progress in their talks on a bilateral investment treaty.
China and the United States are the world's two largest economies and a bilateral investment treaty would be of global significance.
After an agreement was reached on the Trans-Pacific Partnership agreement last year, Obama said that the US will not let countries such as China write the global trade rules and their making should be dominated by the US. And some US economists have hinted that China must first reach an agreement on an investment treaty with the US if it wants to join the TPP.
Since the onset of the global financial crisis in 2008, it has become the mainstream view in China that the country should actively embrace the new rules of global trade and development trends. After formally commencing in 2008, talks between China and the US on a bilateral investment agreement entered a substantive stage in July 2013 when both sides announced they would extend to each other pre-establishment national treatment and adopt a negative list system.
On Sept 29, 2013, China formally launched a free trade zone in Shanghai based on the negative list model. Since then, China has launched other free trade zones, which, along with several rounds of talks with the US, have contributed to the current progress in their talks on an investment treaty.
Given that tangible advancement in their talks will demonstrate to the rest of the world that the two countries can strike an investment deal despite their differences, it should not be too difficult to overcome any difficulties to strike such a deal with other countries.
The standards involved in the Sino-US talks can set a model for an investment agreement to include other developed and developing economies.
--Thepaper.cn