Government leaders' vision of building an open and transparent global investment environment and curbing trade protectionism will offer growth remedies to the world economy in the long run, especially to developing economies, officials and experts said on Monday.
"It's time for the G20 to move forward with an effective agenda on investment and trade. Developing countries otherwise may continue to confront challenges caused by lack of foreign investment, and higher tariffs to ship goods to certain countries," said James Zhan, senior director of investment and enterprise for the United Nations Conference on Trade and Development.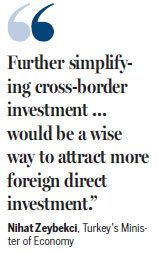 President Xi Jinping urged G20 members to build an open world economy and continue to promote the liberalization and facilitation of trade and investment during the G20 Summit in Hangzhou.