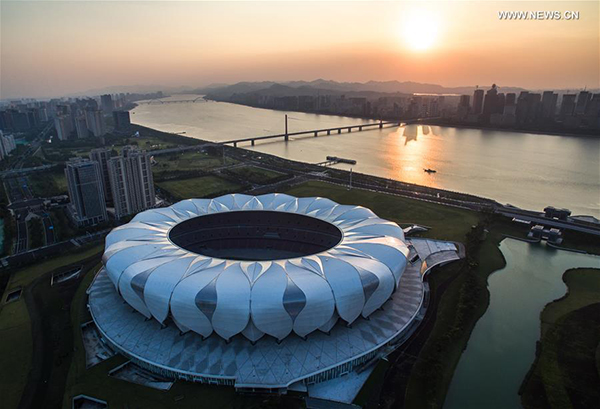 Photo taken on Aug 25, 2016 shows the Hangzhou Olympic Sports Center in the Binjiang district of Hangzhou, capital of East China's Zhejiang province. Hangzhou is the host city for the upcoming G20 Summit.[Photo/Xinhua]
This year's G20 summit is being hosted in Hangzhou under China's leadership. This meeting is being held with the backdrop of Brexit and the emergence of Trump's leadership in the USA. These two are important in the context of Western leadership moving towards the agenda of nationalism and possible protectionism.
To understand the issue of Brexit and Donald Trump and the relevance to G20 one should look at the common understanding of globalisation and its roots. One must look at the global economic environment during the Indus Valley Civilisation period wherein societies (or civilisations) though separated by vast distances operated in an open economic environment. Different economies implemented protectionist policies at different times; e.g. USA since 1816 followed protectionism until 1945, Japan followed protectionism after World War II and India did the same in recent times. Globalisation in its current form seems to have started in 70s and the term officially used after 2000 with International Monetary Fund identifying four basic aspects of globalisation; viz trade, transactions, capital and investments.
The process of globalisation that started in the 70s has now resulted in an economic environment where most economies trade in an open global environment. Most studies that look at the integration of the economies find that developed economies are fully integrated and larger developing economies are at least partially significantly integrated. Currently most economies around the world have removed tariffs resulting in free flow of trade, transactions, capital and investments.
China, under President Xi's leadership has identified the theme for this year's summit as — Innovative, Invigorated, and Interconnected and Inclusive World economy. China has an ambitious agenda for this years' summit and they have been working hard to achieve a number of milestones. This year's summit is important for China as a growing economic power. China recently has emerged as a major global economic power with most people having access to all modern amenities with a growing standard of living for most Chinese.
The relevance of Brexit and the emergence of Donald Trump (like Pauline Hanson in Australia) is that these events may be seen as resurgence of nationalism in these countries and I liken this nationalism in the current environment to the protectionism that emerged after World War II. Most governments around the world adopted protectionist policies which continued until the resurgence of globalisation in the 70s.
With this backdrop China ought to understand there are number of factors that China needs to consider that makes this summit a challenge and opportunity at the same time. Firstly China's growing economic and political strength may be of concern for some internationally. Secondly, in the era of global economic slowdown all governments around the world are concerned and looking at different alternatives for boosting growth and maintaining popularity. Because of the circumstances nationalism and job security for the local population is becoming more important than global factors. Thirdly, India is fast catching up in its economic growth and Narendra Modi is looking at international politics more seriously than any Indian Prime Minister in history.
These factors make deliberations at this summit very interesting as much as President Xi may want to deal with the issue of economic slow down, curbing corruption in China, and international trade and development, China has much bigger challenges at this summit. At the time when China may want to push the agenda for free trade and multilateral trade agreements it is also looking at the competing multilateral agreements; Silk route vs TPP.
Though G20 summit is not a platform that makes enforceable decisions, the communique from the G20 summit does set the tone for future economic direction and future trade negotiations. It is widely believed that China will probably aim for increased trade, better recognition of emerging economies and expansion of the role of G20 to non-traditional security. It is also believed China will be interested in abolishing subsidies for fossil fuels.
I hope this summit achieves one important function of achieving a consensus on deepening the globalisation process. Though world economies are significantly interconnected there is still a lot more to be done in the future. It is also believed China aims to gain a stronger voice for emerging economies.I genuinely hope this summit's communique will be simple and provide much needed hope for the poorer countries.
Dr Rakesh Gupta is an academic at Griffith University, Australia. He also holds visiting Professor positions at Chongyang Institute of Financial Studies at Renmin University and Dalian University of Technology.