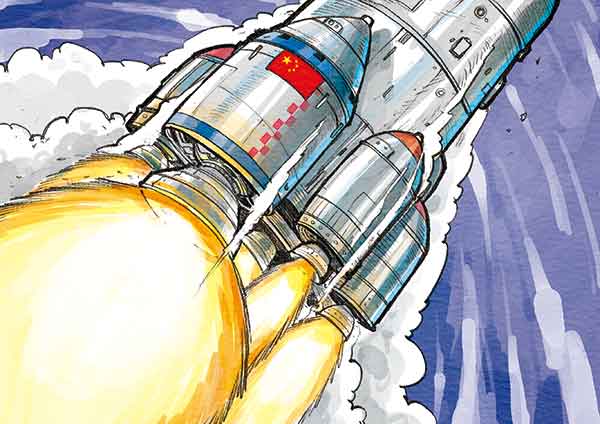 Despite all the hand-wringing over China's slower economic growth, the Chinese economy remains the single largest contributor to world GDP growth. For a global economy limping along at stall speed-and most likely unable to withstand a significant shock without toppling into renewed recession-that contribution is all the more important.
A few numbers bear this out. If Chinese GDP growth reaches 6.7 percent in 2016-in line with the government's official target and only slightly above the International Monetary Fund's latest prediction of 6.6 percent-China would account for 1.2 percentage points of world GDP growth. With the IMF currently expecting only 3.1 percent global growth this year, China would contribute nearly 39 percent of the total.
That share dwarfs the contribution of other major economies. For example, while the United States is widely praised for a solid recovery, its GDP is expected to grow by just 2.2 percent in 2016-enough to contribute just 0.3 percentage points to overall world GDP growth, or only about one-fourth of the contribution made by China.
The European economy is expected to add a mere 0.2 percentage points to world growth, and Japan not even 0.1 percentage points. China's contribution to global growth is, in fact, 50 percent larger than the combined contribution of 0.8 percentage points likely to be made by all of the advanced economies.
Moreover, no developing economy comes close to China's contribution to global growth. India's GDP is expected to grow by 7.4 percent this year, or 0.8 percentage points faster than China. But the Chinese economy accounts for fully 18 percent of world output (measured on the basis of purchasing power parity)-more than double India's 7.6 percent share. That means India's contribution to global GDP growth is likely to be just 0.6 percentage points this year-only half the boost of 1.2 percentage points expected from China.
More broadly, China is expected to account for fully 73 percent of the total growth of the BRICS grouping of large developing economies. The gains in India of 7.4 percent and South Africa 0.1 percent are offset by ongoing recessions in Russia, minus 1.2 percent and Brazil, minus 3.3 percent. Excluding China, BRICS GDP growth is expected to be 3.2 percent in 2016.
So, no matter how you slice it, China remains the world's major growth engine. Yes, the Chinese economy has slowed significantly from the 10 percent average annual growth recorded during the 1980-2011 period. But even after transitioning to the slower growth of what the Chinese leadership has dubbed the new normal, global economic growth remains heavily dependent on China.
There are three key implications of a persistent China-centric global growth dynamic.
First, and most obvious, continued deceleration of Chinese growth would have a much greater impact on an otherwise weak global economy than would be the case if the world were growing at something closer to its longer-term trend of 3.6 percent. Excluding China, world GDP growth would be about 1.9 percent in 2016-below the 2.5 percent threshold commonly associated with global recessions.