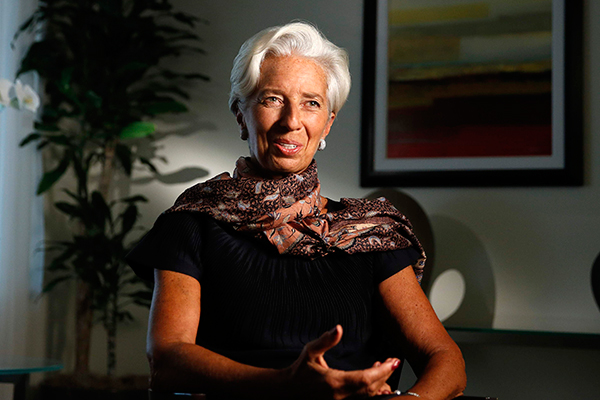 International Monetary Fund Managing Director Christine Lagarde is interviewed by Reuters at IMF headquarters in Washington, August 31, 2016. [Photo/Agencies]
Slower but more stable growth in China can be beneficial for the world economy in the long run, the head of the International Monetary Fund (IMF) said in a blog on Thursday.
"A stable Chinese economy growing at sustainable rates is ultimately good for the world economy," said Christine Lagarde, managing director of IMF.
Lagarde made the comment ahead of the two-day G20 Summit to be held in Hangzhou, Zhejiang province, from Sunday to Monday, during which global powers would discuss issues including low growth, high inequality, and slow progress on structural reforms.
Lagarde holds positive view of Chinese economy in terms of efforts to economic transition, noting that rebalancing of the Chinese economy from investment to consumption, and from external demand to domestic demand.
In the meantime, more efforts are needed to address short-term spillovers and financial volatility, according to Lagarde.
The issue has been highlighted in IMF's surveillance note posted on the same day, where it said that many trading partners will have to adapt to structurally lower demand and its impact on commodity prices.
But China is able to help through bolstering financial-sector resilience and enhance policy communications with other nations, the note suggested.
Lagarde called for forceful policy actions to avoid the global economy from falling into the low-growth rate gap.
That is in line with what China's central bank vice governor, Yi Gang, said at a news conference on Thursday, where China would work closely with other G20 members to use all policy tools, including monetary and fiscal policies and measures for implementing structural reform to boost growth, while strengthening policy coordination.