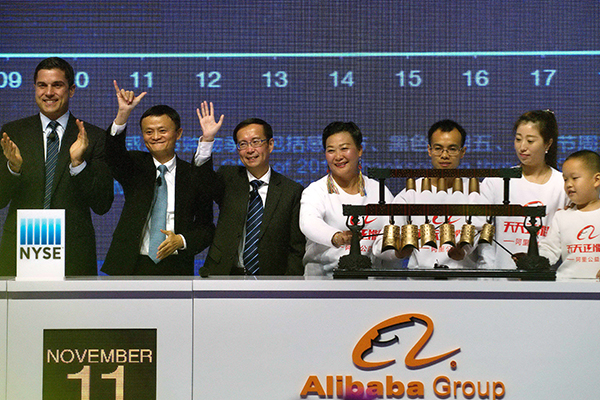 President of the New York Stock Exchange Tom Farley (far left) stands beside Jack Ma, Alibaba's executive chairman, as the bell is rung to start Singles Day, a major online shopping festival, at Beijing's National Aquatic Center on Oct 11. [Photo/China Daily]
Hangzhou is ideal place for leaders looking to the future
When leaders of the world's 20 leading large economies gather for their annual summit this weekend, they will be in a city many people outside China will not have heard of, but which is one of the most prosperous, go-ahead cities in the country.
And of those outside China who know of Hangzhou, capital of Zhejiang province, many may have heard of it in connection with one of the country's most go-ahead companies, Alibaba Group.
Hangzhou, with a population of 9 million, lacks the surrounding farmland that could provide it with food but is endowed with mountains, lakes and rivers that have helped it trade on its reputation as a tourist attraction.
Local people have always been painfully aware that if they could not grow it they were probably going to have to trade it, so the ground has been fertile for the business ideas of entrepreneurs such as Alibaba's founder, Jack Ma.
It was in Hangzhou 17 years ago that Ma planted the seeds for the world's largest online retail empire, even as the broad avenues of Beijing hosted a large amount of China's mighty State-owned enterprises and as the sky-scrapers of Shanghai hosted a plethora of big-name multi-national companies.
Ma, a former English teacher, founded Alibaba in a modest apartment in Hangzhou, starting out with 500,000 yuan (about $75,000 today) put together by 18 friends.
But those simple and humble beginnings seem to have taught Alibaba an invaluable lesson in sticking to the nuts and bolts of business, and it has become a dominant force in China's e-commerce industry. In the fiscal year ended March it served more than 400 million shoppers and sold more than 3 trillion yuan worth of goods.
Ma, 51, the executive chairman, said recently that he chose Hangzhou as the headquarters of the company not because he was born and bred there, but because it appreciates entrepreneur-ship by people who start with nothing and build an enterprise.
Yao Jianrong, a professor at Zhejiang University of Finance and Economics, defined the economic development model in Zhejiang as "grassroots economy".
"Zhejiang doesn't have big State-owned enterprises. Its growth seldom depends on big foreign investment."
Rather than using big investment to spur growth in a top-down way, the small businesses set up by individuals drive the economic development in the region via the bottom-up model, Yao said.
That business environment seems to suit Alibaba to a tee. After starting as a business-to-business online platform to bridge the information gap between Chinese suppliers and international buyers, it gave itself a mission from day one to "make it easy for small and medium enterprises to do business anywhere".
Being based in Hangzhou helps Alibaba get closer to its customers, said Jin Jianhang, one of the company's 18 founders.
Jin, now the president of Alibaba Group, said Hangzhou may have seemed like a strange choice for an entrepreneur in the internet industry in the late 1990s because of the lack of solid internet infrastructure.
"The place is full of entrepreneurship, and people here are very open to new things," said Jin, born and bred in Hangzhou.
Jin used to be a reporter but decided to join Ma's e-commerce adventure after being impressed in an inter-view by his vision. Entrepreneurship is "a spirit of never resigning oneself to fate", Jin said.
Many people in Zhejiang have the "same gene", said Zhang Xuguang, a professor at Zhejiang University. That is why the eastern province has such a booming private sector and a large number of self-made billionaires, he said.
Apart from Alibaba's Ma, many self-made billionaires have built business empires in Zhejiang. They include the beverages magnate Zong Qinghou of the soft drinks maker Wahaha and Lu Guan-qiu, founder of the automotive parts maker Wanxiang Group.
Although Zhejiang's population accounts for just four percent of the national population, 15 percent of the entrepreneurs ranked on the Hurun China rich list are from the province, Rupert Hoogewerf, the chairman of the board and principle researcher of Hurun report, said last year.
"Zhejiang entrepreneurs never fear difficulties, and they are absolutely deter-mined to build something from nothing despite the odds," Zhang said.
Zhejiang entrepreneurs' determination to fight for their businesses combined with government support creates a thriving private economy in the province, said Li Yanyi, deputy-director of Zhejiang Provincial Development and Reform Com-mission, in an earlier interview.
The private sector contributes about 60 percent of Zhejiang's tax income and 70 percent of its GDP, and private companies create 90 per-cent of jobs in the province, the commission said.
Dai Li, who founded West-lake Maker Space, an incubator to promote the growth of startups, said it is relatively simple for entrepreneurs to set up meetings with high-level government officials in Zhejiang.
"Rather than short-term returns, the government here cares more about companies' potential and the value they can bring society."
No rent is charged for his company, which is located in a government-fund entrepreneur park in Binjiang district of Hangzhou, where Alibaba's headquarters is also located.