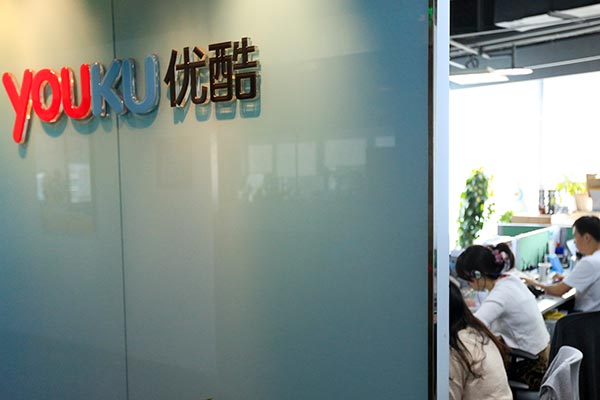 The Youku Tudou Inc logo is displayed on a wall as employees work at the company's headquarters in Beijing, Sept 26, 2012. [Photo/VCG]
Online video site Youku Tudou Inc has announced that it will invest 2 billion yuan ($299.5 million), including cash and other resources, in live video programs in the next three years, betting big on China's already crowded live streaming market.
The online video major, which has been acquired by China's e-commerce giant Alibaba Group, unveiled a dual-brand live streaming strategy-Youku Live and Laifeng Live-on Tuesday to tailor to different audiences.
Youku Live focuses on content, offering more professional live events on news, music, arts and sports. Laifeng Live will upgrade its previous live shows to enable users to have better immersive experiences, highlighting small interactive live shows, said the Beijing-based Youku Tudou.
In order to ensure the quality of live streaming content, the company will launch more than 500 interactive variety shows in the next three years by cooperating with about 100 professional content production enterprises.
The company's president Yang Weidong said that the dual-brand strategy aims to better prepare for the rapidly changing live stream industry.
Backed by China's Alibaba Group Holding Ltd, Youku Tudou seems to have a much clearer path to commercialization than other live streaming apps.
"In the future, massive audiences will interact with live streaming hosts. And, live shows will become vertically integrated. The future commercial potential of the online content business lies not only in the virtual presents that users purchase for hosts, but also in the combination with e-commerce and finance," said Victor Koo, chairman and chief executive officer of Youku Tudou.
Youku Tudou has been authorized as the only platform for the e-commerce giant's "shopping while watching live streaming videos" service.
Youku Tudou said that more than 100 hosts have sold 30 million yuan worth of goods during live shows within the fours months since the service was launched early this year.
Currently, viewers can directly purchase the commodities and receive red envelops while watching the live videos on Youku Live. The company said it will introduce more features involving e-commerce to allow viewers to buy products while watching live shows.
According to data from media giant Tencent Holdings, the number of new live-streaming platforms is expected to reach 400 by the end of 2016. With 260 million users, the turnover in China's flourishing, new reality-show industry will reach 15 billion yuan in 2016, according to Yang Weidong.
In the so-called "live streaming year", a bunch of Chinese companies have tapped into the new growing mobile video market. Chinese internet major LeEco announced the acquisition of a sports streaming platform Octopus in January 2016.
Tencent launched QQ Live in April and invested in live streaming shows specific to gaming, like Douyu.
"Youku owns a solid brand and a large group of users, which will definitely boost its further development in live streaming industries. And, it could directly benefit from Wang Hong, a web celebrity, on the Taobao platform of Alibaba," said Ma Shicong, an analyst at Beijing-based internet consultancy Analysis.
Ma added that Laifeng Live may confront challenges from the early birds in the market, such as the top live streaming mobile app Ingkee, due to their abundant resources of popular live show hosts.