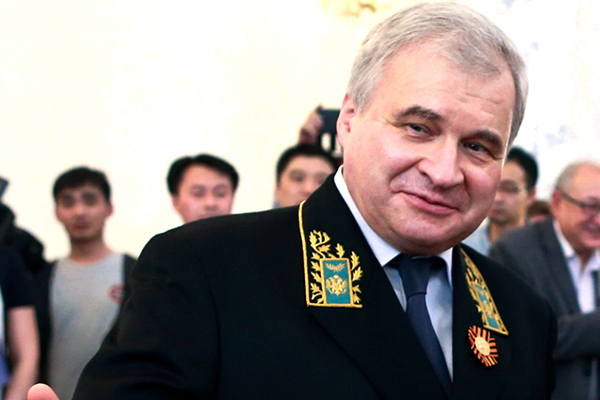 Andrey Denisov, Russian ambassador to China. [Photo/China Daily]
The coordinating cooperation under the framework of G20 is always the key element of the Sino-Russia comprehensive strategic partnership, and Russia looks forward to fruitful results from the upcoming G20 summit in Hangzhou, the Russian ambassador said.
Andrey Denisov, the Russian ambassador to China, said the world's economy has not fully recovered back on the track of sustainable development after the 2008 crisis, and the G20 has a very clear aim, which is to understand that challenges and threats to the global economy have increased, and to establish an efficient mechanism to face them.
He said Russia is going to provide support with constructive cooperation to make sure the summit will achieve success.
"I believe this G20 summit in Hangzhou will find new opportunities to boost the growth of the global economy and innovation," the ambassador said.
He noted that G20 has brought together those influential participants from the developed countries, developing countries and emerging market.
"Through the right orgnization and coordination, and with a coherent agenda, I believe that the group can play a substantial contribution to stablize the world economic situation and create conditions for sustainable growth," he said.
The ambassador recalled the visit of Russian President Vladimir Putin to China in June, during which both sides signed more than 30 deals on cooperation in various fields. He added those agreements have entered the phase of implementation.
As President Xi Jinping and Putin will meet again on the sidelines of the G20 summit, Denisov said the frequent interaction between the two leaders have offered a strong push to the further development of the bilateral ties.
Denisov said the schedule of the leaders of two countries for the rest of the year is full and there are meetings between the leaders at some international events, as well as the 21st regular meeting of Chinese and Russian heads of government, as well as some visits of high-level officials to both countries.
"Considering the rapid development of the Sino-Russian comprehensive strategic partnership of coordination, leaders from China and Russia share common topics and concerns, and it benefits both countries for them to exchange opinions regularly," he said.
Sergey Karataev, deputy director of the economy research center at the Russian Institute for Strategic Studies, said the upcoming G20 summit will provide solutions to some global concerns as the world's economy faces a slowdown.
"I appreciate China's Belt and Road Initiative, to encourage G20 cooperation with BRICS, and to establish the Asian Infrastructure Investment Bank," Karataev said. "The G20 in China will focus on economic issues instead of political issues, and the results of the summit will be a gift to the world by building a community of shared destiny."
Besides meeting with Chinese leaders, Kremlin officials said Putinwill also meet his counterparts from the United States, Turky, Japan, Republic of Korea, France and the United Kingdom on the sidelines of the G20 Summit in China.