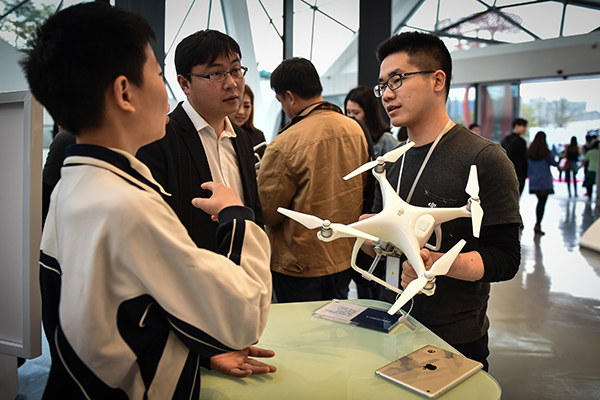 A man introduces DJI's Phantom4 drone in Shenzhen, Guangdong provicne. [Photo/Xinhua]
Despite facing headwinds and witnessing its slowest growth in decades, the Chinese economy is still on the right track and moving towards sustainable growth in the long run, according to experts.
China was ranked the 25th most innovative economy, according to the Global Innovation Index report co-re-leased by the World Intellectual Property Organization, Cornell University and INSEAD in August.
China's research and development expenditure as a percentage of GDP ranks second in the world after that of the United States, the report shows.
Zhao Gang, a researcher with the Strategic Research Institute under the Ministry of Science and technology, said that, among the BRICS economies, China has the highest commitment to innovation.
Margit Molnar a senior economist with the organisation for Economic Cooperation and Development, said that China's economic trans-formation is on the right track, as it has been aided by strong productivity convergence between manufacturing and the service industry.
"While the misallocation of capital over the past decades is manifest in excess capacity in a number of manufacturing sectors, the channeling of investment towards high-tech and new industries is apparent," she said, referring to industries such as aviation, spacecraft equipment, and electronic and communication equipment manufacturing.
Molnar said that efforts being made in the past couple of years in the public sector to reduce the costs of starting a business would spur entrepreneurship and allow more ideas to materialize, ultimately leading to more innovation.
Echoing her statement, Hu An'gang, an economist with Tsinghua University, said that after giving up the old investment driven model that might boost growth in the short run, the government's strong commitment to a sustainable innovation-driven economy is playing a key role in supporting long-term growth.
Innovation has been put high on agenda, where it has been recognized in the 13th Five-Year Plan (2016-20), which sets the target for China to become an innovative economy by 2020.
In the meantime, Molnar suggested that the government should make efforts to strengthen the commercialization of research. More efforts need to be made to help guide more private investment into innovative industries, as most achievements stem from the research of companies and only a small percentage from collaborative projects, let alone projects with overseas collaborators.
Zhao said that the marketization of innovations in emerging high-tech industries can provide the motivation for innovation to drive growth in the long run.