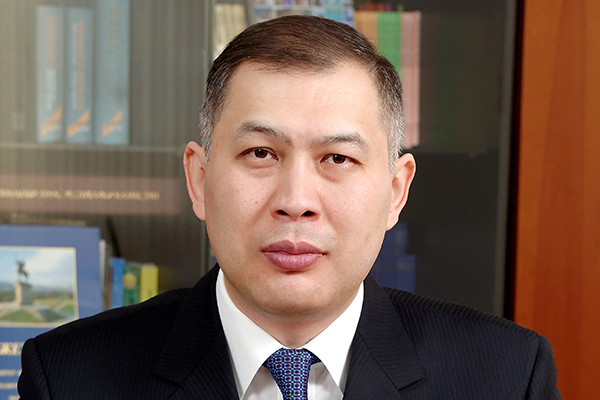 Shakhrat Nuryshev, Kazakhstan's ambassador to China. [Photo/China Daily]
The G20 Summit is a huge event for the global economy and financial system, and the president of Kazakhstan will raise proposals and discuss international concerns with other leaders, the country's ambassador to China said.
This is not the first G20 Summit for Kazakhstan as a guest country as it was invited to the G20 Summit in St Petersburg by the host nation Russia in September 2013.
Shakhrat Nuryshev, the Kazakhstan's ambassador to China, said President Nursultan Nazarbaye will join discussions about the global economy, and look for solutions to problems caused by the economic crisis with other world leaders.
Being the first country to recognize the independence of Kazakhstan, China established diplomatic relations with the former Soviet republic on Jan 3, 1992.
"China has always played a special role in Kazakh diplomatic policies, and both countries agree to further enhance high-level political talks and strengthen economic cooperation," Nuryshev said.
Nuryshev told China Daily that President Xi Jinping and Nazarbaye will hold talks in Hangzhou, and sign several agreements about environmental protection, railway construction and agriculture.
Moreover, a new deal about cooperation concerning the Belt and Road Initiative and the Nurly Zho policy, a key development plan in Kazakhstan, will be of major benefit to both countries.
The policy, which was launched by Nazarbaye in November 2014, is a perfect match to China's Belt and Road initiatives, according to Nuryshev.
He said both strategies will focus on realizing the potential of transportation capacity, and just like the Belt and Road, Nurly Zho also targets support for the development of trade and investment.
Kazakhstan has already started its largest transportation innovation project, with total investment expected to reach $40 billion in 2020. Some completed projects, such as the "Western Europe-Western China" International Roadway Corridor, are seen as an integral part of the modern Silk Road.
Nuryshev noted that Belt and Road Initiative, together with the Shanghai Cooperation Organization and Eurasian Economic Union, can be more connected, and provide a clear direction to multinational cooperation.
Yang Cheng, deputy director of the Center for Russian Studies at the East China Normal University in Shanghai, said Kazakhstan pays a great deal of attention to its mid-and long-term projects.
"And the Nurly Zho policy is a project that, on one hand aims at satisfying the strategic need of the development of Kazakhstan, and on the other hand hopes to boost industry innovation with the help of the Silk Road Economic Belt."
China and Kazakhstan have maintained close cooperation in the past few years, and the regional powerhouse has always been a strong supporter of the Belt and Road Initiative.
Indeed, Xi first raised the proposal of the Silk Road Economic Belt during a speech in Nazarbayev University in September 2013 in Astana, Kazakhstan.