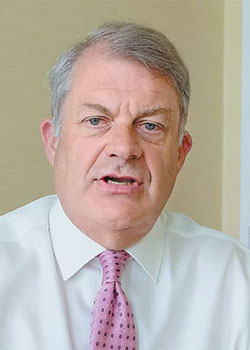 Mark Boleat, policy chairman for the City of London Corporation
Boosting international trade, investing in infrastructure building and promoting green finance can all play a key role in driving forward global economic growth, and China can exercise its G20 leadership to promote these agendas, said Mark Boleat, policy chairman for the City of London Corporation.
"China can exercise leadership in all three areas. It is a large economy with huge trade volumes with other countries in the world. It has a very experienced infrastructure sector which is expanding internationally," Boleat said in a China Daily interview ahead of the G20 meeting in Hangzhou on September 4-5.
Boleat, whose team oversees London's financial center, has witnessed great progress in London's development as an offshore renminbi center, China's increasing trade and investment relations with the UK, and the emergence of new China-led initiatives like the Asia Infrastructure Investment Bank and the Belt and Road strategy, both keenly supported by the UK.
Boleat said international trade can be boosted through multinational negotiations and government efforts to support businesses that trade and invest internationally, and infrastructure investment can be boosted by initiatives like Beijing's Belt and Road strategy.
One key example of such cooperation is China General Nuclear Power Group's planned participation in the UK's Hinkley nuclear project, now awaiting final approval from the UK government in September.
"As an economy very open to foreign investment, the UK is keen to buy the best technology, and that gives Chinese infrastructure and technology companies opportunities, as China already has significant experiences in those areas," Bolaat said.
He added that China's proposal for innovation as a key G20 them is also significant, and again Beijing can exercise influence, as China already has a lot of innovative technologies.
From a financial services perspective, new ideas such as green finance and financial innovation have great potential to transform the industry globally.
"The G20 concepts of Innovation and the digital economy are very much in line with this way of thinking and we will watch the outcomes of the summit in particular in these areas with interest," he said.
Meanwhile, China can also encourage more global growth by further opening its domestic market for international investment, especially in financial services, which Boleat said will benefit both domestic and international companies.
This year the Chinese government has already engaged in various efforts to open up its domestic market, such as liberating its bond market to eligible foreign institutional investors, without requiring them to gain an official RQFII (Renminbi Qualified Foreign Institutional Investor) license. But some hurdles still remain for foreign financial firms to set up in China, especially in banking and insurance.
Alongside the opening up of the Chinese economy, the currency renminbi is also increasingly used internationally, and a new milestone will be achieved when it joins the International Monetary Fund's basket of special drawing rights currencies, which means international fund managers and central banks will increase their allocation of reserves and currency investments to the renminbi.
Boleat said the renminbi internationalization's contribution to the global economy is significant, for example, as China has large trade volumes with many countries, so using renminbi to settle those trade flows can bring convenience and even possible cost savings.
"It could also boost global trade and investment at a time when the global economy is facing a downturn pressure."
He added it is also encouraging to see China increasingly engaging in global governance in many areas, with active participation in multinational organizations like the IMF.
China's rapidly growing economic, political, and cultural engagement and influence in today's world is both undeniable and to be welcomed, and China's development has enormous implications for how the world is governed, said Boleat.
To contact the reporter: cecily.liu@mail.chinadailyuk.com