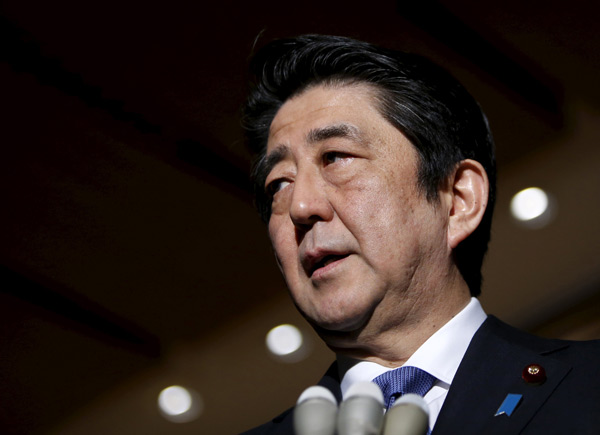 Japan's Prime Minister Shinzo Abe speaks to reporters at Abe's official residence in Tokyo, Japan, January 28, 2016.[Photo/Agencies]
Diplomacy is not simple math. By ignoring this fact, Japan again failed to trade checks for political payout from African countries at the recent Sixth Tokyo International Conference on African Development summit in Nairobi.
Japanese diplomats had burnt the midnight oil to lobby African countries to put issues beyond Africa's development in the Nairobi Declaration, which was issued on Aug 28. What Japan expected were remarks on United Nations reform and the South China Sea issue to counter China.
But the fact is, less than half of the African countries participated in the summit and the talks on drafting the declaration stuttered as some delegates were unhappy with Tokyo's plan to make the declaration political.
With natural resentment against any move reflecting colonial era politics, the African countries opposed Japan's attempt to impose its will upon them and bring Asian issues to Africa.
As a result, Kenya didn't issue a joint statement with Japan after a bilateral meeting between their leaders on the sidelines of the summit, although Japan's Kyodo News Agency claimed on Aug 29 that such a joint statement was released. And as the declaration shows, Japan had to agree with the African countries' views.
Moreover, the contents related to maritime issues in the declaration are confined to the field of maritime security cooperation among African countries.
Japanese Prime Minister Shinzo Abe did announce that Japan would invest $30 billion of public and private funds in Africa in the next three years. But Tokyo should realize checks cannot buy respect, particularly on a continent that values genuine friendship.
Africa should not let itself be used by Japan to politically challenge China, nor should international forums such as the G20 Leaders Summit in Hangzhou and the upcoming East Asia Cooperation Leaders Meetings in Laos.
Hostility, if not ended, will continue to eat into Japan's diplomatic resources without yielding any political returns.