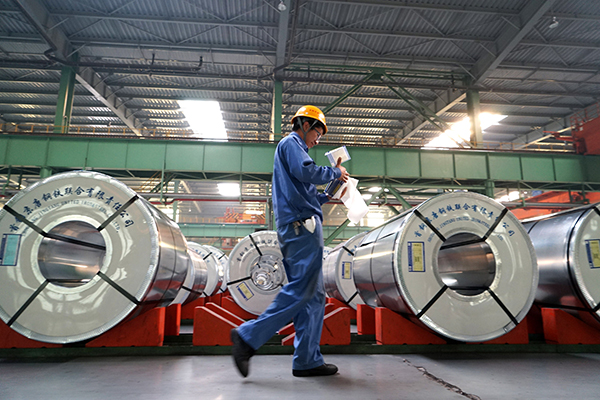 A worker checks steel product files at a cold rolling mill of Tangsteel Group Ltd in Tangshan, Hebei province. [Photo/China Daily]
China's steel sector, like those in the rest of the world, faces the problem of falling demand because of the feeble global economic recovery, although measures taken by the Chinese government to eliminate overcapacity seem to be working.
But some countries have turned a blind eye to these facts and still blame China for the excess supply of steel products in international markets, and have launched anti-dumping investigations into Chinese steel products with the aim of using protectionist measures to solve the problems of their steel sectors. But instead of falling prey to prejudice, these countries should join China to work out targeted measures to reduce overcapacity in the steel industry.
For a long time, China's steel industry focused on domestic demand, not on exports. China's accelerating urbanization, the development of its manufacturing sector and its expanded infrastructure construction mean the demand for steel in the country is till healthy. China became a net steel exporter from a net steel importer only 10 years ago, and exports have accounted for only 10 percent of its total steel output in the past decade, far lower than the 40 percent ratio of some developed countries. To restrict the export of a high energy-consuming product like steel, China has even raised its export tariffs and reduced export tax rebates, becoming the world's only major steel producer to have such a measure in place.
So, reckless protectionist measures will not help resolve the global steel overproduction issue. But in May, the United States started an anti-dumping investigation into some of China's major steel manufacturers, claiming they use unfair means to export steel products to the US. Some other economies, such as the European Union, Chile, Vietnam, Australia, India, Colombia, Canada and Malaysia followed suit. Such restrictive trade measures contravene the principle of fair market competition.
China's steel exports to the US and the EU account for only a small part of their steel imports. Therefore, the imposition of anti-dumping duties on China's exports will only help protect their backward production systems without solving the problem of their steel enterprises' weak competitiveness.
China's steel enterprises are highly competitive in the global market and their products are valued for their high cost to performance ratio. A large part of Chinese steel exports have formed a deeply complementary relationship with the steel producers of the importing countries and thus have promoted local economic development.
The Chinese government has never denied the overcapacity in its steel industry. Instead it has implemented policies and regulations since 2013 to guide local governments and enterprises to digest their production surplus.
In February, the State Council, China's Cabinet, issued a guideline to make overall policy arrangements to reduce the country's steel overcapacity, vowing to cut 100 million to 150 million tons of crude steel capacity in the next five years from the level mapped out during the 12th Five-Year Plan (2011-15) period. For this year alone, the plan is to reduce 45 million tons of overcapacity, and by the end of July, 47 percent of the target had been realized. Now the government plans to take forceful measures to ensure the full-year goal is realized.
The Belt and Road Initiative advocated by China, too, is aimed at strengthening infrastructure construction in the countries that become a part of it and at promoting interconnectivity among them. The smooth implementation of the initiative will help drive up the global demand for steel products and thus promote cooperation and realize win-win results. Given that in the era of globalization, steel overcapacity is not a problem of any one country, be it the highest producer, all countries should play their respective roles and work together to address this thorny issue.
The author is a researcher with the Chinese Academy of International Trade and Economic Cooperation, Ministry of Commerce.