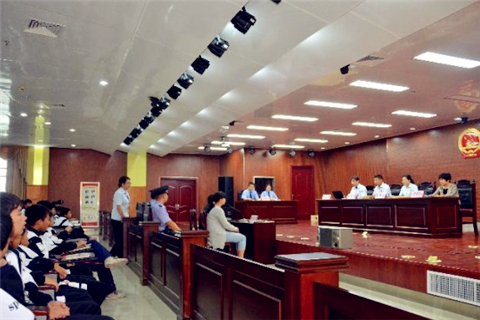 Students taking part in a moot court in Nanyang, Henan province. [Photo/hncourt.gov.cn]
Juvenile delinquency has been on the rise in recent years. For instance, last month, a 13-year-old boy in Cenxi, Southwest China's Guangxi Zhuang autonomous region, reportedly killed three boys younger than him in his village. But he escaped criminal punishment because he was below 14 years, the minimum age for criminal prosecution in China. And in June, a 13-year-old boy set his 24 year-old teacher, surnamed Yang, on fire in Jinchuan county of Southwest China's Sichuan province just to rob her of her iPhone. He, too, was released despite Yang suffering severe burns.
Thanks to social progress and the advancement of the internet, many children below 14 years of age are emotionally and intellectually mature and therefore should be held responsible for their actions. This is partly corroborated by the latest Draft of General Principles of Civil Law, which proposes to reduce the age for civil responsibility from the age of 10 to 6.
The minimum age for criminal responsibility in different countries ranges from 6 to 18 years, which means there is room for reducing the age for criminal responsibility in China.
However, some scholars disagree. First, there are no systematic statistics or studies on the crimes or violent actions committed by children below 14. So we cannot conclude that more and more adolescents are committing serious crimes.
Second, many empirical studies overseas show that reducing the age for criminal responsibility creates new problems, such as cross contamination and "labeling".
Third, reducing the age of criminal responsibility would be against the conservative principle of criminal law, which says penal punishment should not be resorted to if alternative measures are available.