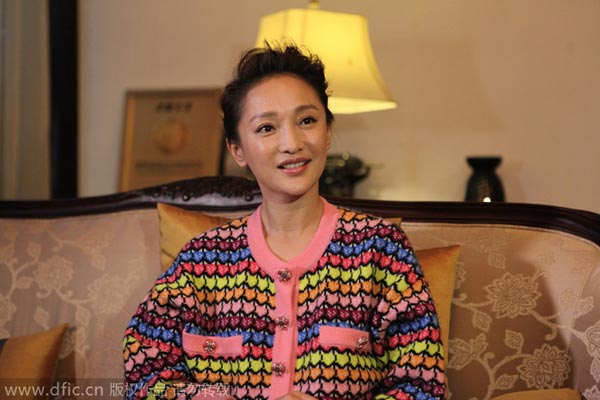 Chinese actress Zhou Xun listens to a question during an interview ahead of the award ceremony of the festival in Hangzhou city, east China's Zhejiang province, Nov 11, 2014. [Photo/IC]
Some leading Chinese actors and actresses are reportedly paid as much as 150 million yuan ($22 million) for appearing in a television series. Beijing Youth Daily commented on Monday:
Although the State Administration of Press, Publication, Radio, Film and Television, China's media watchdog, has issued several circulars criticizing the excessive pay that some celebrities receive for appearing in TV series, the situation has not changed.
Not just the television regulator and media outlets, but also directors and scriptwriters have also expressed concerns over how much leading Chinese actors and actresses are paid. Nevertheless, the big stars continue to be handsomely paid because they attract viewers.
For most domestic television dramas and films, decent viewing figures depend on the star factor. It is estimated that nearly 20,000 episodes of television series are made in the country per year, and just half of them will be aired.
That explains why many film producers still pay for celebrities to appear in their works, despite the cost. Besides, the rise of online television dramas and reality shows in recent years, to some extent, has resulted in a scarcity of showbiz stars, which enables celebrities to charge more.
However, such a phenomenon is not unique to the entertainment industry. Football clubs in the Chinese Super League, for instance, have arguably the most expensive coaches and players in the world. Big transfers, such as that of Didier Drogba from Chelsea to Shanghai Shenhua in 2012, still hit the headlines from time to time.
That is in stark contrast to the poor performance of Chinese footballers, who have a lot of catching up to do. The money poured into Chinese football has achieved little and only further inflated the values of overseas coaches and players.
As for the overpriced actors and actresses, the only cure lies in an overhaul of entertainment industry so it prioritizes serious arts and performances.