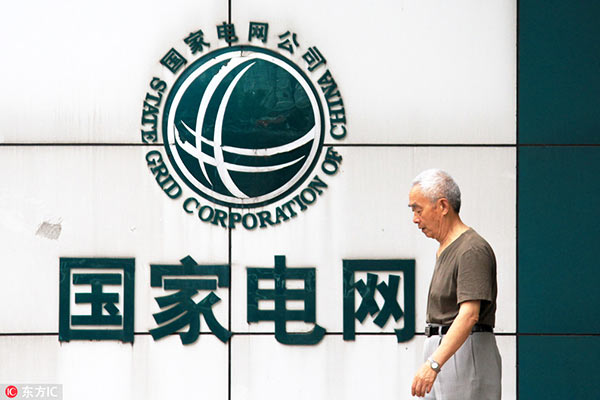 A pedestrian walks past a signboard of State Grid Corporation of China in Nanjing city, East China's Jiangsu province, August 3, 2015.[Photo/IC]
A recent report published by the China Enterprise Confederation indicates that China's top 500 enterprises witnessed a year-on-year decline in their total business revenue of 0.07 percent in the previous months of this year, the first decline since the report was launched 15 years ago.
In the context of the global economic downturn, such a slight decline in business revenue is normal and should not be misinterpreted. China's economy has managed to maintain relatively fast growth in the past few years when many other countries have encountered economic difficulties, but its ever-expanding economic size also makes it increasingly difficult for China to sustain its previous fast economic momentum.
Also the excessive priority China put on economic growth in the previous decades at the expense of quality has exacerbated its inherent economic problems. Therefore, China has had no option but to bid farewell to its breakneck economic pace and seek to shift to a more optimized economic structure and better-coordinated supply-demand relations.
The report also shows that the revenues the country's top 500 enterprises reaped from the services they provide increased to 40.53 percent of their total revenues. This is for the first time higher than that of their manufacturing revenues, which declined to 39.17 percent. The change indicates that China is moving away from its previous resources-dependent and environmentally unfriendly development model.
According to the report, the awareness of the importance of innovation is also greater among Chinese enterprises and their R&D inputs have been increased, especially such prestigious enterprises as Baidu, Huawei and Alibaba.
All these are positive trends. However, the problems faced by these leading Chinese enterprises, as revealed by the report, such as their general lackluster performance, unreasonable economic structure and their excessive pursuit of size, do underscore the need for them to shift from extensive to intensive development.
--Beijing Youth Daily