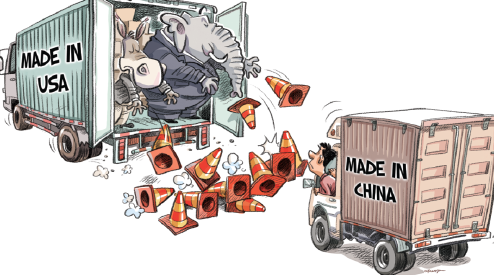 Li Min / China Daily
At the eighth China-US Strategic and Economic Dialogue in Beijing in June, a dispute over steel trade became a very thorny issue. China is now the biggest steel producer and exporter in the world, with its crude steel production capacity being 1.13 billion tons, which accounts for nearly half of the world's total. US Under Secretary of Treasury Nathan Sheets alleged China's excess steel capacity was having a huge impact on the United States, Europe and other markets. And US Secretary of Commerce Penny Pritzker has levied an astonishingly high tariff of 522.2 percent on Chinese steel.
The US accusation is unfair, because China's 4 trillion yuan ($601 billion at current rates) after the global financial crisis boosted the growth of industries such as steel, cement and electrolytic aluminum, and helped it contribute up to 50 percent to global economic growth from 2009 to 2011.
Sluggish global demand has aggravated the excess steel capacity problem despite China making tremendous efforts to reduce its steel production-for example, its steel output fell by 90 million tons last year. And since more than half of China's steel producers are private companies, it cannot just tell them to cut their outputs. To reduce steel production, it has to implement stricter eco-norms and formulate supportive fiscal policies to deal with the mass layoffs of workers.
The dispute over steel trade actually reflects the growing trade protectionist tendency of the US. An American Institute for Economic Research report suggests that imports from China took away 2 million to 2.4 million job opportunities in the US from 1999 to 2011, accounting for about 40 percent of the 5.6 million job losses in manufacturing.
Besides, Republican presidential candidate Donald Trump says that, if elected, he would levy a tariff of 45 percent on Chinese products. Democratic presidential nominee Hillary Clinton too has criticized China for its "unfair" trade practices.
The fact is, "made in China" products have hugely benefited Americans over the past decade and more. A research by the Federal Reserve Bank of San Francisco shows about 55 cents of every dollar spent by Americans on Chinese products go to Americans involved in shipping and sales of the products. Many "made in China" products are actually assembled from parts imported from the US. As such, punitive tariffs imposed by the US on Chinese steel products may please American steelmakers, but they will also increase the costs of US companies that use Chinese steel. When Chinese companies cut their steel outputs, they will reduce imports from the US of high-priced coal, crucial for steelmaking, which will have a huge impact on American coal companies.
Moreover, US protectionist measures have almost always failed to bear the expected results. Data from the Ministry of Commerce show that in 2015, Sino-US trade was worth $560 billion, meaning trade is the backbone of China-US economic relations.
The two sides therefore need to adopt a smarter approach to address their trade frictions. In particular, the US needs to ease its export controls over China and allow it to buy more of its high-tech products. The US also needs to facilitate direct investment by Chinese companies in the US, because it will help create more jobs for Americans.
And given the enormous responsibility of China and the US in promoting the global economy, they need to show greater political resolve to shun trade protectionism, and work together to uphold an open and inclusive international trade regime to boost global economic growth and maintain lasting peace among countries.
The author is a research fellow at the Charhar Institute. Courtesy: chinausfocus.com