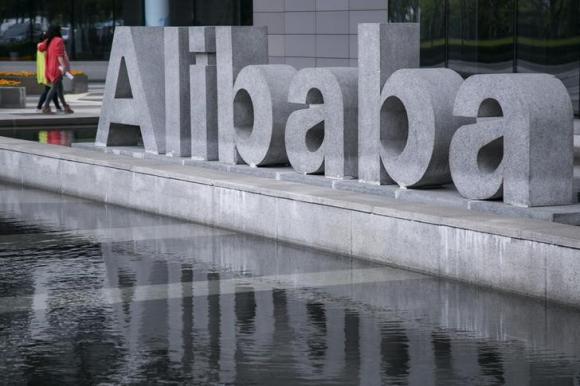 People walk at the headquarters of Alibaba in Hangzhou, Zhejiang province, April 23, 2014. [Photo/Agencies]
In response to questions about its "political" contribution to Clinton Foundation, Alibaba Group has said it donated $250,000 to the foundation in 2005 for the treatment and care of HIV/AIDS patients in developing countries.
This is an interesting episode in Chinese enterprises' "Go Global" process. After China became the second-largest economy, its enterprises accelerated their pace of joining global competitions. Ministry of Commerce data show Chinese companies' foreign direct investment (FDI) increased on average 14 percent a year from 2008 to 2014. In the first five months of this year, Chinese companies' non-financial FDI steeply rose 62 percent year-on-year, and their FDI in the first half has already exceeded that for the whole of last year.
Chinese enterprises that "Go Global" not only get a wider stage to do business, but also have to cope with various economic, cultural and legal challenges. More and more Chinese enterprises, however, are taking their social responsibilities seriously, doing their best to ensure their products and services meet local environmental standards and their investments benefit local communities.
These companies know that social responsibilities have become increasingly important assessment criteria in foreign governments' evaluation of Chinese investments.
Chinese enterprises, through their overseas operations and practices, can gain better understanding of globalization, because despite being predominantly economic in nature, globalization is also a cultural process. Foreign investors can get more support from local governments and residents, which cannot be obtained through just business success, if they pay greater attention to the well-being of local people, especially the disadvantaged groups.
The experience of developed countries' enterprises that have successfully gone global shows their inputs in corporate social responsibility is a worthwhile investment for publicity, branding and marketing. Chinese enterprises need to better understand this fact and use greater foresight to run their businesses.
Enterprises are one of the most active cross-border players in the era of globalization, and they can promote political, economic, cultural and social exchanges and cooperation. By fulfilling their social responsibilities in public welfare and community development, Chinese enterprises can better demonstrate their country's culture and values. If Chinese enterprises can raise their corporate social responsibility awareness while expanding globally, they can become powerful ambassadors of China's public diplomacy.
But they may have to make more efforts to fulfill their corporate duties toward society, because there are big differences in cultures, societies, customs, religions, politics and legal systems of countries. To overcome these differences and adapt to local conditions, the enterprises will have to gain more experience from their practices and make comprehensive preparations for future success.
In previous years, some Chinese enterprises, despite striking merger and acquisition deals abroad, met with difficulties because of their inability to adapt to local conditions. The questions raised against Alibaba are part of those difficulties: teething problems of growth overseas.
But these obstacles should not and cannot hinder Chinese enterprises' global expansion. Some of them may not emerge winners in the race, but most of them are capable of adapting to the changing circumstances and situations through reform and adjustment.
The government, on its part, should urge Chinese enterprises to comply with the laws, conventions and cultures of their investment destinations, and fulfill their corporate social responsibilities. The reason for that is simple: If China intends to become a responsible global power, it must have responsible global enterprises.
The article was first published on the Beijing Youth Daily on Aug 3.