I have been in China for not more than three days but already have a story to share. It starts with a beach, moves into a typhoon and doesn't end because there is so much ahead.
Having landed in Guangzhou on an international NGO Europe-China twinning project, I have had my mind clogged with grim expectations, mostly influenced by bothered relatives, sympathetic friends and old-fashioned travel guidebooks. The smog, the impossible traffic, the congestion - all these spelled trouble in my mind. Although I am a seasoned traveller and have just returned from Nepal packed with adventurous experience, I was uneasy about being alone in China.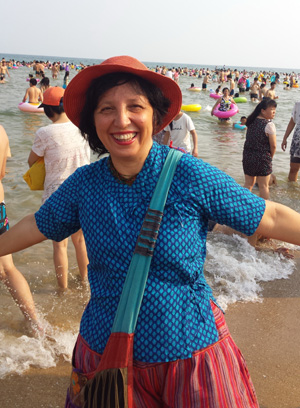 Antoaneta Pophlebarova [Photo provided to chinadaily.com.cn]
As all good fairytales go, miracles started to happen from the start. I was met by a charming young colleague, seated in a comfortable car and transported fluently to my accommodation. A trip in a boat down the glorious Pearl River and the mesmerizing night skyline of the Tower, the Bridges and the City Giants made me pinch myself to believe it was real. Much to my surprise, my hosts had already booked an excursion to me for the next day - to a city on the beach. My itchy feet were shivering with excitement. So much to see. Where was I going? Did not know, my hosts had not been there but the trip was recommended as interesting.
Off we went. A bus packed with Chinese tourists and me at the front, able to say only Ne-hao. The guide, an upbeat young girl did her best to translate herself into English, having such a curious traveller by her side, eager to learn not only about the 18 odds of the area, but about so much more. An abundant lunch with sea food that I had not seen in the largest Aquariums I had visited. A cosy, luxurious hotel. A minute to rest and ... there it comes - the highlight of the trip - the beach.
Seriously? My hosts did not know that I come from a sea city and going to the beach is a daily routine in summer months. I thought I would see a museum for a start. And then - imagine my utter disbelief when I saw the beach and the people on it. I had never ever seen so many people in the sea. Too Many! Young and old, some with their clothes on, all with inflated rubber rings into the water. Up to a line that nobody could cross. That is why all were attached to. A boat guarding the other side of the rope. All in bright flamboyant colours, beaming with pure happiness. Never in my life had I seen so much joy of being in the sea! It brought tears to my eyes. The excitement of the people of some remote inland areas that have the chance to see the wast water for a first time, the dream come true to entire families - granparents and grandchildren alike. So moving! So genuine!
And then - an announcement of an upcoming typhoon comes. No more beach pleasure. No protest too. If such a ban was ordered in my country few would have regarded it. Just the opposite. All go swiftly back to the buses and the big eviction starts. In a flash. I had never known what a typhoon is like, but when I had to wash out the water on the 25th floor flat for an hour I realized that it is Too Much! Now Nida is gone, life comes back to normal and what I am ready for will be ... the Not Enough.
The Not Enough of Chinese warm-hearted hospitality, the stunningly varied and delicious Cantonese cuisine and of the so many dips into a new culture that are ahead.
Do not trust guidebooks, they can never keep pace with China's fast forward today. Go and check for yourself. I bet it will never be Enough.