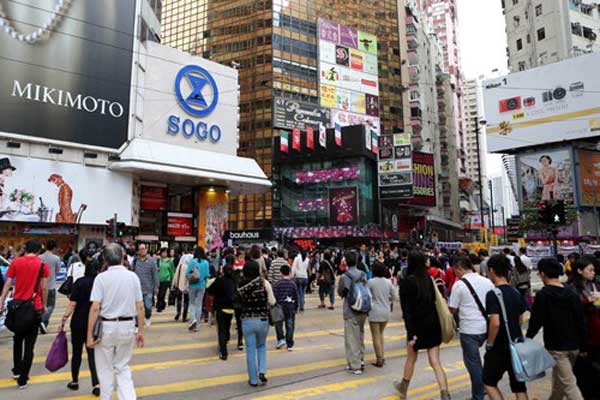 Causeway Bay, Hong Kong.[File photo]
The July 1 demonstration in Hong Kong, an annual event organized by the opposition in the special administrative region since its return to Chinese sovereignty, will reportedly be led by Lam Wing-kee, a Hong Kong bookseller seized by mainland police in October for selling forbidden books to the mainland, Ching Cheong, who received a five-year prison sentence in Guangzhou in 2005 on charges of espionage, and Lau Shan-ching, who received a 10-year prison sentence for "rescuing" "mainland activists".
Given that all the three violated the mainland's laws, if the reports are true, it seems the region's opposition is now openly challenging the mainland's political and legal establishments. This would be a dangerous development.
Under the principle of "One Country, Two Systems" and Hong Kong's Basic Law, activities organized by the opposition should only concern the affairs of the special administrative region and should not be vehicles for objectors to the mainland's political and legal system.
However, Hong Kong's opposition has increasingly pointed fingers at the mainland and the central government and is even more obviously trying to turn the highly autonomous region into a base for those antagonistic to the mainland. Such a trend is a serious violation of the spirit of "One Country, Two Systems" and the Basic Law, and is thus inviable.
Some radical forces in Hong Kong seem to be willing to go to extremes to confront the mainland and this is testing the resilience in the mainland-Hong Kong relationship. Worse, their radical opinions are negatively influencing ordinary Hong Kong residents, thus posing the challenge for mainstream society of how it can extricate itself from the influences of such extremist opinions. The extremist trend has also created difficulties for the mainland in its relationship with Hong Kong.
But Hong Kong should realize that if the situation cannot be changed, its residents will bear the brunt of the consequences.