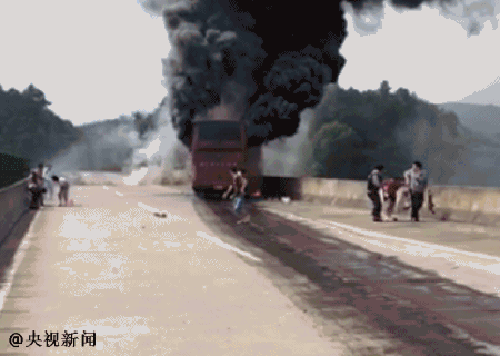 Live images show a bus burst into flames after it caught fire in Yizhang County of Hunan Province on Sunday morning.[Photo/Weibo]
A fire in a tour bus in Yizhang, Central China's Hunan province, on June 26 killed 35 people and left 11 injured. According to initial investigation, the bus hit the guardrail on the highway before catching fire.
The number of casualties would not have been so high had there been an emergency exit door in the bus, as reports say the driver fled without opening the main door, and several passengers were saved by a road maintenance workers who broke the glass windows and helped them out.
The police are investigating whether a fault in the electrical system made it impossible for the driver to open the door. But one thing is certain, better education and stricter implementation of safety measures can save precious lives during emergencies.
More importantly, it is time long-distance buses were equipped with better safety gear to protect lives. Since most buses nowadays are air-conditioned, there is no provision for opening the windows. So passengers have to use hammers to break the glass to escape to safety during emergencies.
But hammers are not the best choice. And many bus companies simply forget to keep them in their vehicles, while some drivers take the hammers for other use.
Besides, to save time, many travel agencies arrange their schedules in such a way that buses ply at night. And sleeping or dozing passengers takes time, maybe a couple of minutes, to realize there is an emergency and look for a hammer. A couple of minutes, however, could be enough for a fire to engulf an entire bus — in the Hunan tragedy the fire became deadly three minutes after the bus hit the guardrail.
So China should consider emulating some developed countries' practice and install automatic glass breakers (AGBs) in buses. Most AGBs are small and attached to a bus window. In case of an emergency, the driver only needs to push a button to trigger a tiny explosion in the AGB's contact surface with the glass to break it. After that, passengers only to need to push the fragmented glasses outward to escape to safety. And as a safety precaution, mainstream AGBs use rechargeable battery that are independent of a vehicle's electrical system.
Developed countries such as the US and Germany have been using AGBs for years. In 2014, some primary and secondary schools in Jiaozhou, East China's Shandong province, began installing AGBs in their buses because children may not be able break the glass windows during emergencies. In neighboring Qingdao, some schools have even installed other equipment such as rope ladders in certain buses so that students don't get hurt while jumping off a bus.
After the Hunan tragedy, the authorities should seriously consider making it mandatory for buses to have AGBs. Some might argue AGBs mean additional cost. The price of an AGB ranges from 100 yuan ($15) to 400 yuan and on average a bus needs about a dozen of them, which means an additional investment of 1,200 yuan to 4,800 yuan per bus, which is nothing compared to a life.
In fact, the government should consider offering subsidies for AGBs, because it is about people's safety. When we pay tax, we hope the amount will be used to keep people safe.
In June 2013, 47 people were killed in a bus fire in Xiamen, Southeast China's Fujian province. In February 2014, a bus fire in Guiyang, Southwest China's Guizhou province, claimed six lives. And in July 2014, two people were killed in a bus fire in Guangzhou, Guangdong province.
Many of those victims could have been saved if the buses had AGBs. Therefore, the authorities should not delay in making a much-needed decision to better protect people's lives.
The author is a writer with China Daily. zhangzhouxiang@chinadaily.com.cn