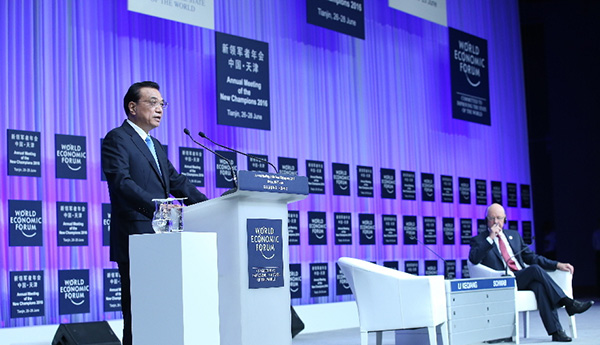 Premier Li Keqiang delivers a keynote speech at the opening of the annual Meeting of the New Champions in Tianjin on June 27, 2016. [Photo / Xinhua]
Tianjin, the venue of the Annual Meeting of the New Champions, will probably be one of the places where the immediate chill from the United Kingdom leaving the European Union is felt most keenly.
A once-a-year mid-summer event, organized by World Economic Forum and hosted in rotation by Tianjin and Dalian, two northern Chinese port cities, the Summer Davos is a forum for leading figures from around the world to discuss globalization and innovation.
But this year, almost eight years after the 2008 global financial crisis and with all major economies still trying to adapt to the long-term implications of the changes it wrought, the world seems drifting farther away from these goals rather than moving toward them.
Challenges abound. Most economies are not expanding as fast as they did before. Many old industries are on an agonizing but helpless decline, while new industries are still to deliver strong and stable growth.
Jobs in old industries are disappearing while those in new industries are often of a completely different kind requiring different skills and even lifestyles.
Everywhere, existing financial markets and investment instruments seem to have incurred greater risk rather than less. Emerging market economies have seen major ups-and-downs. And governments' financial policies are yet to generate an increasing sense of certainty.
To an extent, last week's Brexit was a reflection of sagging popular confidence in the effects of any joint efforts on the global level.
Confidence is something very real. It comes from neither stalling to take action, nor biased design (worst of all to prioritize self-interest), or a one-shot deal in risk-taking.
Economies are a long-cycle phenomenon rewarding hard work, especially when all the easy achievements are already achieved or still out of reach.
Just as Chinese Premier Li Keqiang told his audience in Tianjin, China will be working tenaciously to seek cross-border cooperation and collaboration with its partners around the world despite Brexit and whatever difficult twists may follow this event, spending continuously on education and innovation, and structuring business-friendly policies and regulatory environment whenever possible.
With 67 trillion yuan (more than $10 trillion) in GDP, 170 million college-educated workers, and 40,000 newly registered businesses on an everyday basis, the fact that China is staying on course is in itself an important help to the world to keep up its globalization momentum.