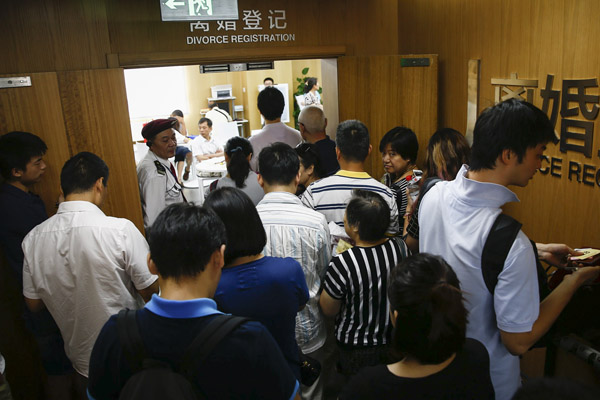 A divorce registration office of the Shanghai Civil Affairs Bureau is bombarded by couples on Aug 30. [Photo by ZHANG RUIQI/FOR CHINA DAILY]
SHANGHAI POLICE HAVE detained seven real estate agents for spreading rumors about the government introducing new home purchase restrictions, which led to a jump in divorce rates and a property buying frenzy in the city. Beijing News commented on Monday:
The seven Shanghai property agents were no doubt pursuing better sales and commission fees, but the house-purchasing frenzy they triggered in the city with their rumors shows that something is wrong with the metropolis' real estate market.
Restrictions on the purchasing of extra properties are meant to cool the overheated real estate market in major cities. However, homebuyers who believe house prices will keep soaring in the big cities and who have the wherewithal to buy are inclined to purchase more houses while they are still "affordable".
Their perspective has a lot to do with the stricter restrictions on the demand side, which to some extent, have failed to keep property prices in check.
On the one hand, potential home buyers have been told their choices will be limited; on the other hand, owners of multiple properties will hesitate to put their property on the second-hand market, as repurchasing can be fairly difficult.
Besides, people's expectations that house prices in the big cities will continue to go up means that many are convinced that hoarding real estate properties is the most lucrative investment strategy.
In Shanghai's case, some people even got "divorced" after a rumor spread that the authorities were considering introducing higher minimum down payments and mortgage interest rates for homebuyers divorced for a certain period of time.
Inefficient administrative control should be blamed for this farce, which has added more uncertainties to the housing market. What all the departments concerned should do is to provide more land and make room for resale of properties, rather than impose harsher restrictions on homebuyers.