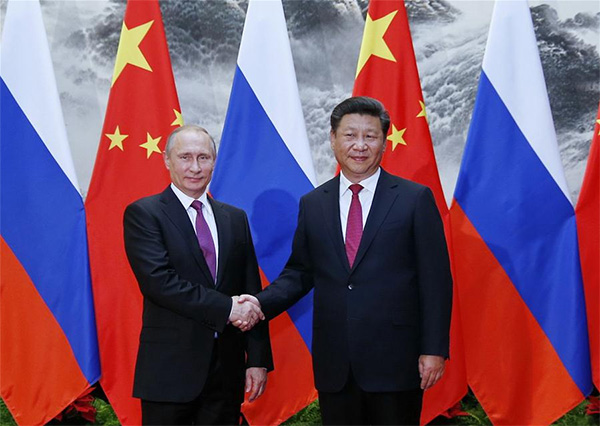 Chinese President Xi Jinping (R) shakes hands with Russian President Vladimir Putin at the Great Hall of the People in Beijing, capital of China, June 25, 2016.[Photo/Xinhua]
To some in the West, that China and Russia are becoming closer is reason to worry. So the two joint declarations that Chinese President Xi Jinping and Russian President Vladimir Putin signed on Saturday in Beijing may cause them even more concern.
But that should not be the case.
In the first place, the Saturday declarations are logical outcomes of two heads of state comparing notes about bilateral ties, on the occasion of two historical anniversaries-China and Russia pledged to build an equal, trustful partnership of strategic cooperation oriented toward the 21st century 20 years ago, and signed a treaty on friendly cooperation 15 years ago.
Both Beijing and Moscow are subject to some degree of Western-orchestrated isolation, and both are obviously aware of the prejudices surrounding them. However, they went out of their way to assuage suspicious third parties that the China-Russia relationship is non-alliance in nature and is not targeted at any third country.
If that does not suffice for alleviating misgivings about Moscow and Beijing joining hands, take a closer look at what they have committed to in black and white.
Indeed, there are proposals Westerners may have difficulty appreciating, such as their opposition to unilateral sanctions and unwarranted outside intervention in other countries' domestic affairs in the name of promoting democracy, as well as their emphasis on cyber sovereignty.
Yet in such a comprehensive joint policy statement covering virtually all aspects of bilateral and international relations, there is a consistent emphasis on acting within the United Nations framework.
And their prescriptions for major issues of international concern in no way look anti-West, or focused solely on geopolitical self-interests, as some have claimed.
They declared they do not accept Pyongyang's nuclear-missile strategy, stating the latter's sovereign right to peaceful use of nuclear energy and outer space should be contingent on its full fulfillment of obligations under UN resolutions.
And from issues such as the international campaign against terror, to Syria and Afghanistan, Beijing and Moscow made it clear they are in favor of broader international cooperation to address them.
Their call for establishing a global "united front" against terrorism and extremism "with no preconditions attached" may not sound attractive to everyone. But that may well be the only way to end the present state of ineffectiveness.
Beijing and Moscow have recommended their relationship as a model for building harmonious, constructive, equal, trustful, mutually beneficial, and win-win relations between major countries. Like it or not, there indeed is something to learn from how these two giant neighbors overcame historical grievances to become friends.