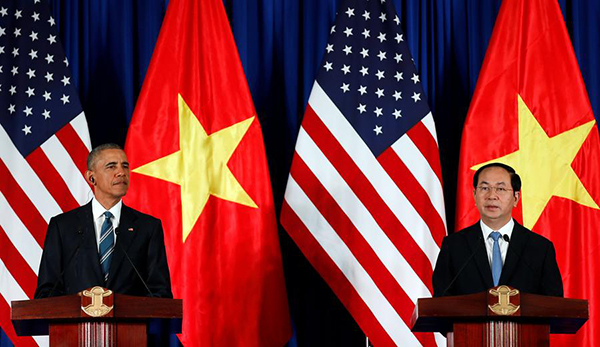 US President Barack Obama attends a news conference with Vietnam's President Tran Dai Quang at the Presidential Palace Compound in Hanoi, Vietnam, May 23, 2016. [Photo/Agencies]
The ongoing visit by US President Barack Obama to Vietnam, the third by a US leader since diplomatic relations were restored in 1995, may serve as a footnote to the adage that there are no eternal allies or perpetual enemies, only eternal and perpetual interests.
More than four decades after the end of the Vietnam War, which killed millions of Vietnamese and 58,000 US troops, the former bitter foes have turned into friends and are seeking to boost their commercial, military and political relations.
The three-day visit-whose duration underscores the importance Washington now attaches to Hanoi-has already born fruit, with Vietnam signing a deal to buy 100 Boeing planes worth billions of US dollars, and the US announcing that it will fully lift the arms embargo it imposed on Vietnam decades ago.
Both are clearly willing to let go of the lingering vestiges of war to complete the lengthy process of normalizing bilateral relations that started years ago.
But whatever common interests the two countries pursue, they should never compromise China's national interests and threaten regional security.
It is worrying to note the three-day visit has been described by some as a pivotal move in the US' strategic rebalancing to curb the rise of China. The US, they say, is using Vietnam as an offset to China's growing strength in the region, especially after tensions increased in the South China Sea because of regional countries' competing sovereignty claims.
This, if true, bodes ill for regional peace and stability, as it would further complicate the situation in the South China Sea, and risk turning the region into a tinderbox of conflicts.
It remains to be seen whether such a worry is justified. The growing mutual benefits shared between China and Vietnam markedly outweigh their differences. China has long remained Vietnam's top trading partner, and leaders of the two countries have been working hard to maintain a relationship of "good neighbors, good friends, good comrades and good partners".
Despite their maritime disputes in the South China Sea, China and Vietnam have made public their commitment to resolving their differences properly through cooperation and dialogue, a principle that already helped both to complete demarcation of the Beibu Bay smoothly.
To distance himself from a confrontational stance against China, Obama was quick to separate the decision to lift the Vietnam arms sales ban from any shared interest to contain China, saying it was based on completing the normalization of relations with Vietnam not on China.
We hope Obama means what he says.