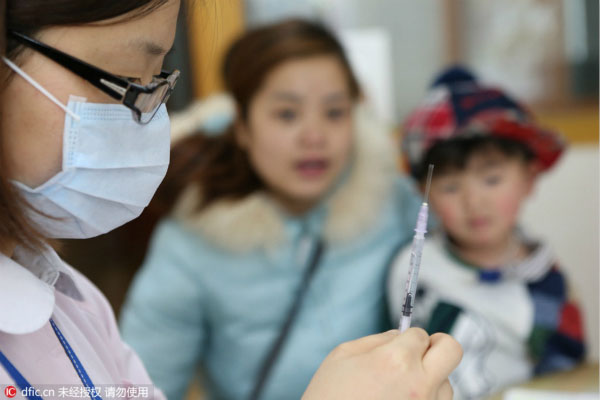 A Chinese medical worker prepares to vaccinate a young kid at a hospital in Shanghai, China, March 20, 2016. [Photo/IC]
Recently, some patients complained that medical staff at a community health service center affiliated to Chongqing No 6 People's Hospital injected them with the vaccines that may not the ones they had paid for. The local authorities have announced some results of their investigation, but Southern Metropolis Daily urges them to be more transparent:
The local authorities said the vaccines were the right ones, but some of the medical staff derived illicit profits and they are conducting further investigations.
The scandal in March involving expired and improperly stored vaccines that were sold to hospitals throughout China dealt a severe blow to people's trust in the related authorities and any further incident might lead to widespread panic if not properly handled.
In order to prevent such panic, the authorities cannot afford any delay and must respond to people's questions as quickly as possible.
But more importantly, the investigation must be transparent. In the Chongqing vaccine incident, authorities did quite a good job by allowing patients and children's parents to witness and supervise the whole process. But there are more questions that need to be answered, such as how the medical staff concerned got illicit profits from the process.
The concerns around vaccines at the moment mean the authorities have to be completely transparent and be truthful in the statements they issue. Only in this way will they be able to win back public trust.