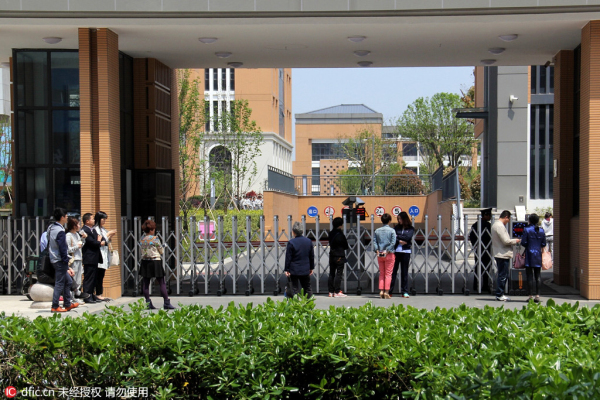 Chinese parents wait at the gate of the new campus of Changzhou Foreign Languages School near a toxic site in Changzhou city, east China's Jiangsu province, 18 April 2016.[Photo/IC]
After the "poisonous land" case in Changzhou, Jiangsu province, hit the headlines, students in another school in the same province recently also reported symptoms such as bleeding from their noses to body itching and skin peeling.
Students at the school in Haian county have complained of the pungent smell from neighboring chemical plants. The Haian county government did not deny the "peculiar smell" pollution, but it has been sluggish to respond and take action.
It has now ordered a full shutdown of the plants, but this only came after the students' symptoms emerged and their parents became concerned. This has sparked claims that children's health is once again being used as a "test" for pollution.
The sluggish response from the Changzhou and Haian governments has exposed their indifference toward the health of local residents. It also reveals that relevant legislative and administrative departments have failed to pay enough attention to the issue of monitoring and eliminating pollution. Thus it underscores that flaws in the relevant monitoring standards need to be corrected.
A typical example is that after local residents in Changzhou reported the smell and the local environmental protection bureau conducted on-the-scene tests, an official from the bureau admitted that technological means for domestic environment testing still lags behind that of advanced countries. The backward testing means and equipment may cause some pollution to go undetected.
There have been many examples of environment watchdogs failing to detect environmental hazards and the affected residents having no legal recourse to safeguard their rights. It is hoped that local governments start paying real attention to pollution and its harmful effects on people's health and take practical measures to prevent similar tragedies from happening again.--Beijing News