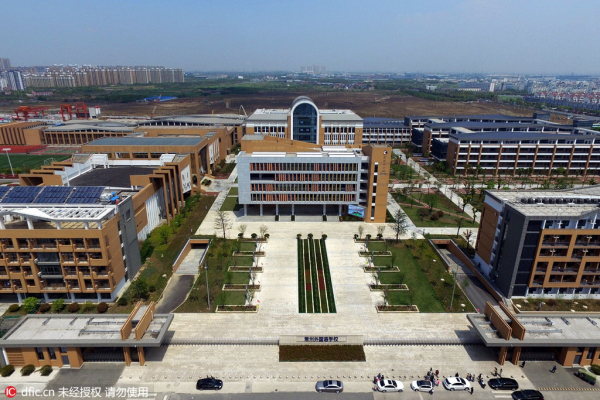 A view of the new campus of Changzhou Foreign Languages School near a toxic site in Changzhou city, east China's Jiangsu province, 18 April 2016.[Photo/IC]
The Foreign Language School in Changzhou, East China's Jiangsu province, where 493 students have been diagnosed with a variety of diseases, continues to make headlines. The school is located where three chemical plants once operated, and an environmental investigation team has been sent to determine if high levels of pollutants such as chlorobenzene are the cause of the students' health issues. Thepaper.cn said on Tuesday:
Some have pointed out that similar scandals used to happen in developed nations, but that's no excuse for the scandal in Changzhou. The right to a healthy environment is a fundamental human right, and you cannot compare 2016 with the 1950s.
While an independent environmental report found the site of the school is heavily polluted, the Changzhou municipal government has denied this. The Ministry of Environmental Protection has sent a team to find out the truth. If the site is found to be contaminated, we hope the investigation will be able to answer some questions:
First, how could the land be so polluted? Reports suggest the chlorobenzene in the underground water and in the earth are thousands of times higher than the national standards. If this is the case, the three chemical plants that were previously on the site must have violated the law and the local environmental authorities must have failed in their duty.
Second, the law clearly prohibits the use of contaminated land for construction until the soil is clear of pollutants. Did the school obtain approval for purchasing the land? Who issued the approval? Was any bribery or other corruption involved?
Third, reports state an environmental evaluation was carried out before construction started on the school. The evaluation report pointed out the contamination, but still allowed the construction to proceed. So who produced the report and did they fail their duty?
Fourth, did the local officials intentionally try to cover up the scandal? If so what penalties will they receive?
We hope answers to these questions will be forthcoming. We also hope that the national regulations on soil pollution will be implemented in earnest.