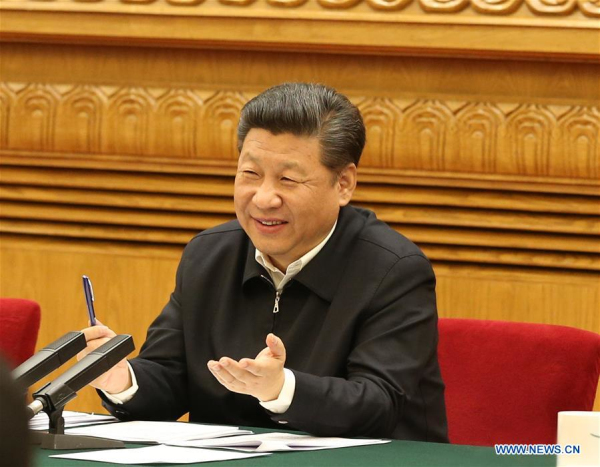 Chinese President Xi Jinping, also head of the central Internet security and informatization leading group, presides over a symposium on cyberspace security and informatization in Beijing, capital of China, April 19, 2016.[Photo/Xinhua]
In A Declaration of the Independence of Cyberspace, a document that has been widely distributed since 1996, the author, John Perry Barlow, a founder of the Electronic Frontier Foundation, declared that the internet is free, open and equal, and called on governments to leave it alone.
Doubtlessly, the free nature of the internet prompted innovation in its early development. However, the virtual world is not independent of the real world, and the challenges of the virtual world originate in the real world.
It is a consensus of the international community that what applies offline, also applies online.
Therefore, the principle of national sovereignty and the international norms that derive from it should also apply to cyberspace.
National sovereignty is an essential concept of modern international law, and equality of sovereignty is a fundamental principle that defines contemporary international relations.
The question is how to apply the principle of national sovereignty in cyberspace.
The most direct way lies in jurisdiction. In 2003 and 2005, the UN held the two-stage World Summit on the Information Society, in which participant nations agreed that national sovereignty should determine decisions about internet-related public policies.
In 2013 and 2015, the UN information security Group of Governmental Experts discussed international rules for cyberspace, and there was hardly any dispute over applying the principle of national sovereignty.
The Tallinn Manual, written at the invitation of the Tallinn-based NATO Cooperative Cyber Defence Centre of Excellence to research how international law applies to cyber conflicts and cyber warfare, clearly states that: "A State may exercise control over cyber infrastructure and activities within its sovereign territory".
In practice, states take legal, judicial, as well as administrative measures to fight illegal activities in cyberspace and defend their own cyber and state security.
Most states hold zero-tolerance to those seeking to violate national security using the internet.
Especially since terrorism has become more rampant. One after another, states have strengthened their regulation over cyberspace, so as to prevent it from serving the aims of terrorists. Europol has already founded a special group to close the social media accounts of radicals, while many European nations have been more strictly regulating the internet.
In the face of such threats, national interests must be defended and national sovereignty is necessary to do that. Therefore, any state must be able to decide what measures to take when it comes to defending their national interests in cyberspace.
Of course, the characteristics of cyberspace, especially the cross-border flows of information have brought uncertainties. There are divergences over how to apply jurisdiction in cyberspace and how to use state power to protect national sovereignty.
As a global cyber power, China is trying to set a good example for other nations by applying the sovereignty principle in cyberspace.
At the second World Internet Congress held in Wuzhen, China, on Dec 16 to 18, last year, President Xi Jinping proposed respect for national sovereignty as the first principle of global internet governance.
China's National Security Law, which came into effect last July, also decrees that the Chinese government must take measures to protect national sovereignty, security, and development interests in cyberspace.
China is leading the way in applying the principle of national sovereignty in cyberspace, which will help promote the application of the rules of international governance to cyberspace.
The author is a senior researcher on information technology and social development at the China Institute of Contemporary International Relations.