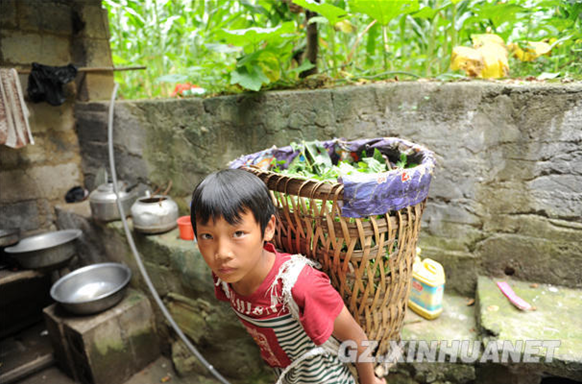 Ying Chunxi, who lives with his 80-year-old grandmother in the Wumeng area of Guizhou, has to do the cooking himself and go up the mountain to collect plants every day. [Photo provided to China daily]
The ministries of Civil Affairs, Education and Public Security will jointly start a survey on the general situation of the left-behind children in China's rural areas. After the launch of reform and opening up, many rural residents have left their homes to work in cities, leaving their underage children in the care of grandparents or to fend for themselves.
Children separated from their parents during their formative years face many problems in terms of education, security and mental health. Some left-behind children have even committed suicide or have been sexually abused. The problem of the left-behind children should be seen as part of the greater problem of migrant workers in China.
Realizing the gravity of the problem, the central and local authorities have taken measures to safeguard migrant workers' basic rights and to provide protection for left-behind children. For example, the Third and Fifth Plenums of the 18th Central Committee of the Communist Party of China announced measures to improve the care services for the left-behind children, women and senior citizens in rural areas. And the 13th Five-Year Plan (2016-20) has made the protection of the left-behind children in rural areas a basic public service item. And in February, the State Council, China's Cabinet, issued a guideline for improving care services for the left-behind children.
But the national survey announced by the three ministries is the first substantive step to comprehensively carry out the care and protection work for the left-behind children.