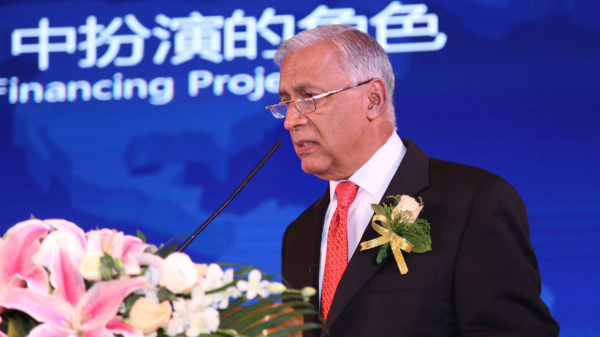 Shaukat Aziz speaks on Launching of Dagong Global Infrastructure Credit Rating Methodology & Infrastructure Investment and Financing Forum.[Photo provided to chinadaily.com.cn]
China has shown to us in Pakistan what a dependable and reliable friend it is, says former prime minister of Pakistan Shaukat Aziz in an interview with China Daily website.
The interview was done through " Launching of Dagong Global Infrastructure Credit Rating Methodology & Infrastructure Investment and Financing Forum" which is jointly held in Beijing by Dagong Group, an emerging international credit rating agency and Global Infrastructure Basel (GIB) Foundation.
Here are the excerpts:
Could you introduce your understanding of the infrastructure credit rating methodology to be launched this time?
We have started a new initiative by the collective work of Dagong and UCRG(Universal Credit Rating Group), Dagong is a Chinese credit rating company and UCRG is a collection of rating companies around the developing world. Our goal is to have the ability to rate new projects coming up for infrastructure, this is the response to the initiative by the Chinese government and president Xi on One Belt and One Road, so this initiative involves a lot of new projects of infrastructure. My own country, Pakistan, is a major recipient of this initiative, Pakistan and China have signed contracts of projects for 46 billion dollars, which would be used for building roads, infrastructure, ports, and connectivity, and all these effort would have positive impact on economy of Pakistan. Because when you have connectivity and linkages, you create opportunities for your countries and for your people. It creates jobs, industrialization, and it creates better more mobility, better roads, better infrastructure, which would benefit for future. So we're very pleased to see this kind of initiative in Pakistan, the government of Pakistan has taken many measures to implement it very seriously and effectively. And because Pakistan and China have a border linkage, you can drive to Pakistan and come back, so it would be a good convenience to involve in One Belt and One Road initiative. We've also landed to many other infrastructure projects which will be beneficial for the country and the people. The quality of life of people would be improved, they would get jobs and better standard of living. Pakistan would borrow money from China to build these projects, and pay back after the projects have been build and cash flow is coming. So I believe that it could be a game changer for Pakistan.And it would improve the relationship between Pakistan and China, which is beneficial for both countries. China has shown to us Pakistan, what a dependable and reliable friend it is. It has supported us in difficult times. We have a relationship with the European countries, United States, Russia, Middle East, and Africa, and I think the China-Pakistan relationship is quite unique, because of the initiative like One Belt and One Road, our security cooperation, our investment, we have joint investment companies, and these companies are funding our projects. So we found a good medium between the two countries. it's clearly a win-win for both.
Could you introduce more about the China-Pakistan economic corridor that supposed to further connect two economies?
The China-Pakistan economic corridor is a new concept. First of all, it would provide to us more connectivity between two countries when you build up roads and open up backs between the two countries, people would travel more back and forth. You create the economic activities. Because it would be easier to send products to Pakistan through the land roads rather than going through some other roads. Plus, for that land road, China has also building up some urban transport system, to carry people from one place to the other within the large cities of Pakistan, which contains more than 1 million people in one city. So with the infrastructure to come in, it creates markets for Chinese companies, to sell the infrastructure, and it will creates markets for Pakistan companies and contractor to provide local support. And then as for the people, it will change the quality of their life. Better electricity, better roads, better connectivity, they've already seen some of the benefits. So people of Pakistan are very happy that friends from China have helped them to do these, and of course we will pay back the financial loans. Our record is good. So we're very looking forward to further cooperate with China.