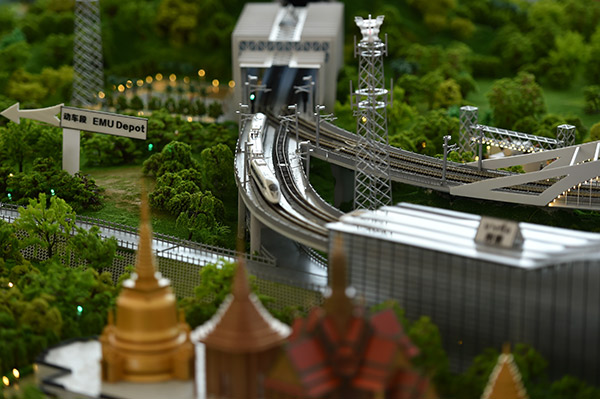 A sand model of the China-Thailand railway is on display at the launching ceremony held on Dec 19, 2015. [Photo/Xinhua]
The latest twists and turns in the mega railway project between China and Thailand have triggered concerns in both countries. Such an undesirable scenario may be normal for an ordinary business deal, but the railway cooperation between the two countries deserves more prudence and sincerity as it is based on the premises of reciprocity and win-win outcomes.
Thai Prime Minister Prayut Chan-o-cha made a surprising announcement last month that Thailand would solely finance the construction of the first phase of a railway line linking China to Thailand, the track from Bangkok to the central Thai town of Nakhon Ratchasima, instead of seeking financial assistance from China as planned.
According to media reports quoting Thai Transport Minister Arkhom Termpittayapaisith, the issues of contention include the interest rate at which China was offering to finance the deal and the total cost of the investment.
At a news conference last month, Arkhom suggested that the interest should be reduced from 2.5 to 2 percent, alleging that since the approximately $5 billion project is a venture between governments, China should have offered a loan at what he described as a "friendly rate that takes into consideration relations between China and Thailand".
The two sides also cannot see eye to eye with each other about the total invest cost, with Thailand's estimation much lower than those of the Chinese.