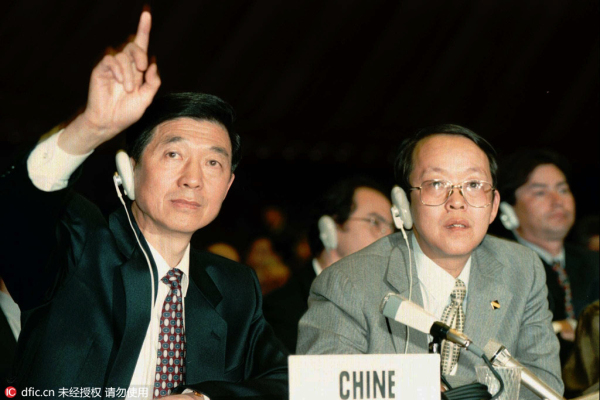 China's former ambassador Wu Jianmin, left, holding up his finger during the debate on Human Rights resolution in China at the 53th. Human Rights Commission in Geneva on Tuesday, April 15, 1997. At right an unidentified member of China's delegation.[Photo/IC]
Delivering a speech on the modern world and China's diplomacy at the China Foreign Affairs University in Beijing on March 30, Wu Jianmin, China's former ambassador to France and former president of the university, said the main theme of the world is peace and development, and criticized the Global Times for publishing some articles with extreme views which could mislead readers into believing in war and revolution.
Wu said Hu Xijin, Global Times chief editor and a leading commentator, cannot see the big picture and the general trend of the world despite being a learned man.
In response, Hu wrote an article on his micro blog on April 7 saying Wu represents an outdated mode of diplomacy and assumes the media do nothing but make trouble by professing extreme nationalism.
Wu refused to carry the debate forward, and Hu said his newspaper will soon publish an article Wu has written and continue to regard the former ambassador as an important writer contributing to the Global Times' pluralistic character.
Such a name-calling debate, even if not personal, between a veteran diplomat and an outspoken opinion leader is rare in China and has stirred a discussion between foreign policy doves and hawks. Yet the debate should be seen as a constructive exchange of ideas between different opinion camps, for it can only help improve China's diplomacy. Whether such debates are on the South China Sea disputes or the "new type of major-power relationship" with the United States, the need is to maintain a dynamic balance between hard line and restraint.
It is hoped the Wu-Hu debate will lead to more constructive discussions on the diplomatic issues confronting China. Wu and Hu, as well as the people supporting them, have become part of the debate for the same purpose: better adapting China's diplomacy to the changing world. And it is only natural that their outlooks on the modern world are different.
As an experienced diplomat fluent in French, Wu has experienced firsthand difficulties Chinese people faced during the "war and revolution" era. He is also witness to the benefits people have been enjoying after China launched reform and opening-up thanks to the peaceful environment.
Hu earned his master's degree from a university in the Soviet Union in 1989, three decades after Wu graduated. The Global Times editor-in-chief has seen the disintegration of the socialist camp. He served as a war correspondent in former Yugoslavia from 1993 to 1996 and the Iraq war in 2003. He has also seen how the US has split sovereign states or pushed them into anarchy on the pretext of propagating democracy.
Therefore, the public as well as China's policymakers should view the disagreement between Wu and Hu as a progressive development.
Similar splitting also exists in the United States on its China policies. Good foreign policies and strategies have always been a result of dynamic compromise between two parties. China is no exception, even if it has a different political system from Western countries.
As such, China needs the space for meaningful debates on some diplomatic issues, because the results can serve as reference points for policymakers while adjusting the country's foreign policies.
Since diplomacy is essentially an extension of internal affairs, public participation in discussions on the foreign policy, which directly concerns national interests, can minimize the opposition against the final outcomes at home. And without people's understanding and support, no foreign policy can be implemented smoothly.
Moreover, involving citizens in the process will help raise their awareness about diplomacy and cultivate in them a strong sense of responsibility toward national affairs.
In this sense, the Wu-Hu debate reflects a social understanding to protect China's national interests by devising an effective foreign policy.
The author is a writer with China Daily. liyang@chinadaily.com.cn