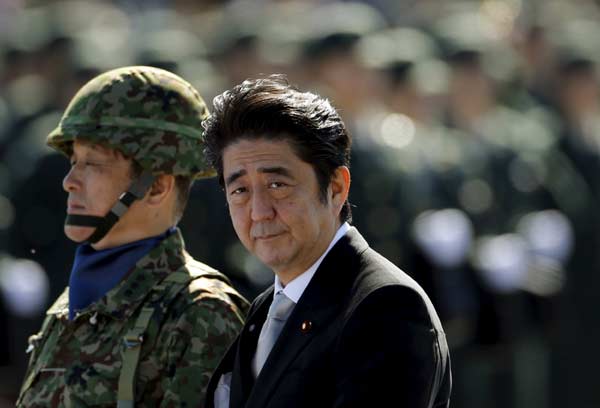 Japanese Prime Minister Shinzo Abe (R) reviews Japanese Self-Defence Forces' (SDF) troops during the annual SDF ceremony at Asaka Base in Asaka, near Tokyo, in this October 27, 2013 file photo. [Photo/Agencies]
Despite former Japanese prime minister Yukio Hatoyama's outright stance that Japan is mainly responsible for the tensions in Sino-Japanese relations and his criticism of the government's distorted views on history, territorial disputes and China's rise, Japanese right-wing politicians continually defend the Abe administration's accelerated efforts to revise the country's pacifist Constitution and other provocative moves.
Compared with the doves in Japan, the much stronger hawks, led by the Liberal Democratic Party, now firmly dominate the parliament's lower and upper houses and are leading Japan farther away from repairing its damaged ties with China.
The nationalist and populist tendency in Japan is poisoning the fragile Sino-Japanese relations. A March survey conducted by Japanese media found that a record 83.2 percent of Japanese people hold no sense of neighborliness toward China. Such a tendency can, to a large extent, be attributed to selective Japanese media reporting on China under the influence of Japan's official policy and stance toward China, which fails to paint a full picture of the country and misleads the Japanese public.
The absence or insufficiency of cultural exchanges has also further aggravated Japanese media and public's sense of repulsion toward China and even offered excuses for Japanese politicians to push for a tougher stance toward China.
Both Chinese and Japanese media should hold a responsible attitude and exhibit a balanced perspective when reporting on each other's country rather than focusing on the negative aspects alone. Given that China's economic aggregate and comprehensive national strength will continue to have an upper hand over Japan, Japan should hold a realistic attitude toward this. Tokyo should particularly discard its past "superiority complex" and "insular mindset" while dealing with China and no longer view itself as the leader of Asia in defiance of China's rise.