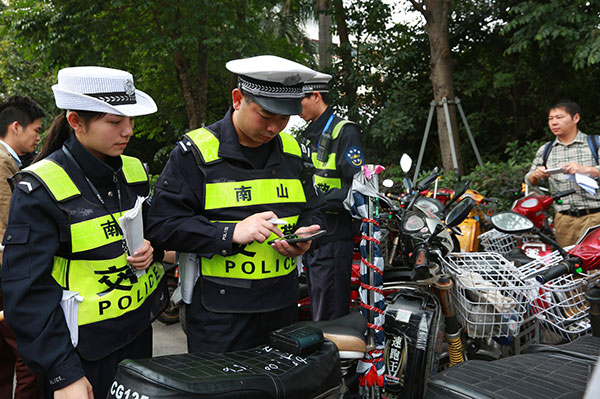 Traffic police officers in Shenzhen, Guangdong province, seize unlicensed electric bikes and freight tricycles in March. XUAN HUI/CHINA DAILY
The crackdown on electric tricycles in Shenzhen, South China's Guangdong province, launched late last month, according to some observers, seems controversial. At a press conference on Tuesday, Shenzhen police tried to appease the public by saying the crackdown was targeted at illegal vehicles rather than express delivery services, and many media reports had exaggerated the number of tricycles seized.
But the trend in big cities is worrying despite Shenzhen officials' explanation. In the latest development, the Beijing municipal government has decided to ban electronic motorcycles and tricycles on some of the city's roads, including Chang'an Avenue. Given the exemplary role the capital has played in policymaking, it is possible that more cities will follow its example to target these popular modes of transport which are used by couriers and many low-income people.
According to officials, the e-bikes and tricycles plying the roads are of substandard quality, with most of them having a top speed of more than 20 kilometers an hour — the limit set by the authorities for safety reasons — and thus posing a threat to the safety of pedestrians.
Yet official figures show casualties in traffic accidents caused by e-bikes in Shenzhen and Beijing account for 10 to 20 percent of the total, even though their proportion compared with private cars and other four-wheel vehicles is much higher. This means private cars and other vehicles are still responsible for most of the traffic accidents.
For example, 113 people were killed and 21,000 injured in accidents involving e-bikes in Beijing last year, accounting for 12.3 percent and 36.7 percent of the total number of deaths and injuries in road accidents. Given that more than 4 million e-bikes ply the city's streets compared with about 5 million cars and other vehicles, the safety record of e-bikes is not that bad. This should also make e-bikes safer than four-wheelers.
E-bikes are being used by Chinese people for decades. Their production, sales and use form an industrial chain that offers jobs to millions of people. Since they are relatively inexpensive and easier to use, they have become quite popular among people who cannot afford a car and courier companies that prioritize quick delivery. Also, e-bikes cause less pollution, with their carbon emissions accounting for less than 10 percent of that from private cars.
There is no denying, though, that many e-bike riders often violate traffic rules; they are guilty of speeding, overloading and even driving in the wrong lanes. That is where law enforcement should be strengthened. What the Shenzhen officials are doing, however, is throwing the baby out with the bathwater.
The crackdown on e-bikes in Shenzhen has taken a heavy toll on courier companies and their employees. According to media reports, the delivery volume of some companies has dropped by more than 90 percent, with many employees now considering quitting their jobs. This has greatly increased the number of complaints from customers over delivery delays, as well as made life more difficult for those who rely on e-bikes to make a living. This obviously runs against the government's goal of building a harmonious society characterized by people-oriented policies.
China could not have achieved unprecedented economic development over the past decades without the hard work of tens of millions of migrant workers, who make the life of urban residents easier by selling groceries, delivering milk and bottled water, and doing household chores. Therefore, their interests should be included in the policies to promote urban development.
Demolitions of schools for migrant workers' children because of their poor conditions, or relocation of small commodity markets from downtown areas have occasionally made headlines but rarely drawn enough public attention.
The media uproar over the Shenzhen incident and the public concern for the disadvantaged group, however, show that ignoring the needs of weak and poor is not the hallmark of our society.
Hopefully, urban planning officials will likewise change their mindset.
The author is a senior editor with China Daily
huangxiangyang@chinadaily.com.cn