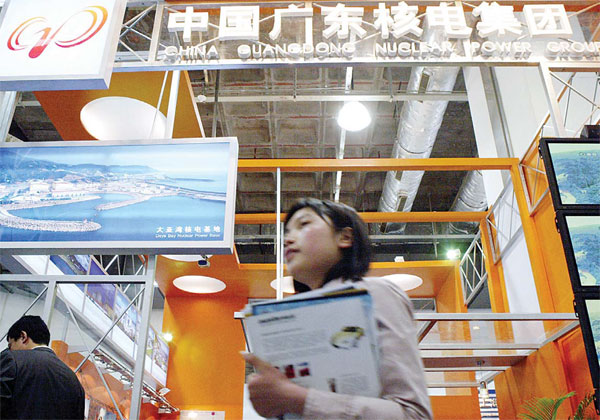 The China Guangdong Nuclear Power Group pavilion at a recent nuclear power equipment expo in Shanghai. [Provided to China Daily]
Facing growing energy demand, ever harsher conditions pertaining to domestic resources and protecting the environment, as well as the challenges of global climate change, including the need to reduce greenhouse gas emissions, China has to solve a series of basic problems in its energy development.
These challenges include: Striking an energy supply-demand balance; overcoming the environmental and biological problems caused by China's long-standing dependence on coal; easing logistics problems brought about by the transport of coal from its coal-rich western and northern regions to coal-scarce eastern and southern parts, and the transfer of electricity from west to east; and reducing dependence on foreign energy supplies to ensure energy security.
The large-scale development of nuclear energy will play a key role in freeing up China's domestic resources, guaranteeing energy security, helping reduce greenhouse gas emissions and ensuring that a green, low-carbon development model is adopted.
Nuclear power is important to China in promoting a clean, sustainable energy system because it not only is free of sulfur dioxide emissions and carbon dioxide pollutants but also is high-power density energy with a high load factor.
Nuclear power also stands out as an energy source because of its ever-improving safety and reliability, clear cost advantages over coal power and issues of transport. For example, nuclear power produces about 1 percent of the greenhouse gas emissions produced by same-capacity coal power. And because nuclear power fuel needs much less transport than does coal, this can ease pressures on transport infrastructure.
China's nuclear power stations are highly reliable, all of their equipment, buildings and installations having been built and checked according to the strictest quality control regulations. All of China's nuclear power stations are distributed across its coastal area, with their generating units operating safely and securely. No nuclear accident rated above level 2 has occurred in China, under the classification standards of the International Atomic Energy Agency.
China now leads the world in building third-generation nuclear power stations. Apart from third-generation pressurized water reactor stations of the AP1000 and EPR types that are being built, it is also working on AP1000 technology and promoting research and development of CAP1400 technology.
According to estimates, China's national power capacity will reach 1.89 billion kilowatts by 2020, of which 1.16 billion kW will come from coal-fired power plants, 635 million kW from hydro, gas, wind and solar power generation, and the rest from nuclear power stations. When every 20 million kW of nuclear power capacity is put into operation to generate 140 billion kWh of electricity on average annually, an equivalent of 42 million tons of standard coal will be saved.
At a time when low-carbon development has increasingly become a global trend, the mastering of core energy technologies will become a symbol of a country's core competitiveness. China must regard nuclear energy as a high-tech field that is of strategic significance and make concerted efforts to form its own nuclear industrial brands. It should also stick to the safety-first principle in its nuclear energy development strategy and ensure that no leakage occurs anywhere.
Also, any plan for further nuclear energy development should be implemented in a scientific and orderly manner, to ensure coordinated development of nuclear power construction, and its speed, quality and economic effects.
The author is an academician with the department of energy and mining engineering, Chinese Academy of Engineering.