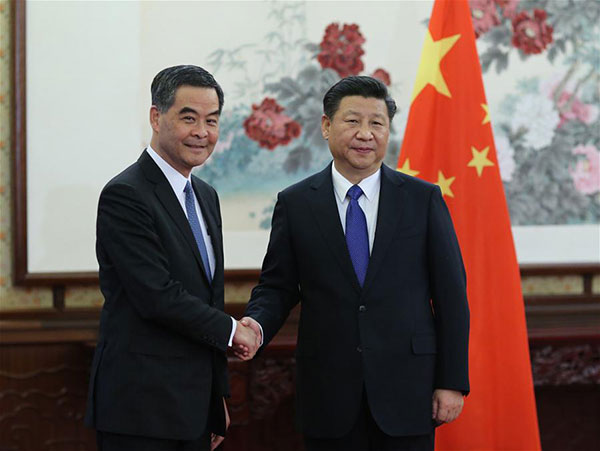 President Xi Jinping (R) meets with Hong Kong Special Administrative Region Chief Executive Leung Chun-ying in Beijing, capital of China, Dec 23, 2015. Leung is in Beijing to report his work to the central government. [Photo/Xinhua]
A separatist organization calling itself the Hong Kong National Party was "officially" founded the other day at a press conference in the Hong Kong Special Administrative Region, even though its pursuit of legal status failed when the Hong Kong Companies Registry, where all political parties in the SAR have to be registered, rejected its application according to the law.
By holding a press conference to announce its existence after failing to register with the government, the separatist group has already openly challenged the rule of law in Hong Kong.
Chan Ho-tin, the convener of the HKNP and an undergraduate student at the Polytechnic University of Hong Kong, said the party currently has 30 to 50 members, most of them young students like him. If true, people have a very good reason to wonder what those young HKNP members are learning in school these days. Do they know what they advocate is illegal, unconstitutional and idiotic?
The Companies Registry refused to accept the HKNP's request for legal recognition because it aims to turn Hong Kong into an independent republic by all means necessary, which is against the Basic Law of the HKSAR. Chan told reporters at the press conference that the HKNP is operating with money its members have pitched in, and it needs donations from the public as soon as possible. That means a not legally recognized political group seeking to separate Hong Kong from the motherland by illegal means is also trying to swindle money from local residents.
As for its desire to make Hong Kong an "indigenous nation" recognized by countries around the world and represented in the United Nations, people cannot but feel sorry for the parents and teachers of these students, who either have no idea what the word "nation" means or pretend their definition of the word is completely different from the dictionary one. It is a simple fact that Hong Kong has always been a part of China's territory no matter who happens to govern the country. No person, organization or government can deny that fact or change it.
Arguments over "Hong Kong independence" are ultimately a waste of time and energy because, at the end of the day, all attempts to achieve it will fail no matter who is behind them. Using individual rights and freedoms to justify such desires is ridiculous because Hong Kong is not anybody's private property.