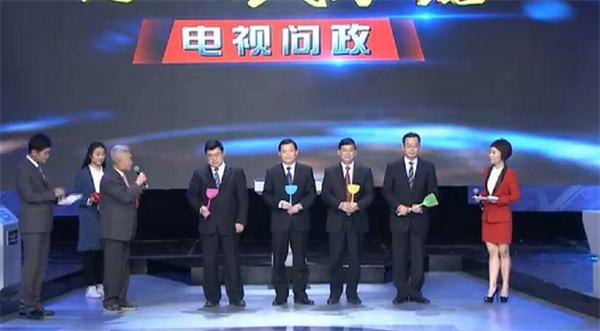 Every official is given a flyswatter on the live broadcast. [Photo/youth.cn] 
DURING A RECENT LIVE BROADCAST ON LOCAL TELEVISION, the heads of Nanning, capital of South China's Guangxi Zhuang autonomous region, were given flyswatters by people in the audience as a call for greater anti-corruption efforts. (Low-ranking corrupt officials are often referred to as flies.) Daily Sunshine, a newspaper based in Shenzhen, South China's Guangdong province, commented on Wednesday:
It is understandable that the Nanning live television broadcast assigned some of the audience to present flyswatters to the local officials, as it improved its ratings. But, in essence, such a television program should be more about certain officials responding to public concerns and residents participating in local governance, not entertainment.
In other words, the officials invited to the live broadcast are supposed to address residents' concerns about administrative inefficiency and incompetency in a sincere manner, with or without the flyswatter stunt. Many of them did a good job when answering some embarrassing questions, without trying to evade or deny them.
However, for these civil servants, simply expressing regrets over their failure to better serve the public may not be enough. It is hard to judge whether they mean every word of their confession or pledges to correct the wrongs, just by their performance on the screen.
Of course, inviting senior officials to a live show and exposing them to the public may prompt them to try harder to fulfill their duties, or at the very least, reflect upon how to improve the service they provide for residents.
They should not only urge responsible departments to fix their problems, but also candidly shoulder their responsibilities as the one in charge. That is exactly what such television program is designed to achieve.