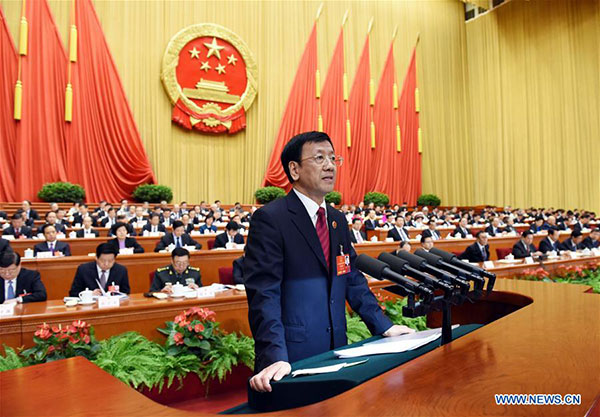 Cao Jianming, procurator-general of the Supreme People's Procuratorate (SPP), delivers a report on the SPP's work during the third plenary meeting of the fourth session of China's 12th National People's Congress at the Great Hall of the People in Beijing, capital of China, March 13, 2016. [Photo/Xinhua]
BEIJING - China's judicial authorities on Sunday said the country will continue to maintain "high pressure" on corruption as authorities press on with an over three-year-old anti-graft drive.
A total of 22 Chinese ex-officials at ministerial level or above, including former leader Zhou Yongkang, were prosecuted last year while 41 were subject to formal investigations, up from 28 in 2014, Procurator-General Cao Jianming told lawmakers when presenting a work report on the Supreme People's Procuratorate (SPP) last year.
Chief Justice Zhou Qiang also said Chinese courts have concluded trials for Zhou and 15 other senior officials, showcasing "the Party and the country's resolute determination in cracking down on corruption."
More than three years into a high-profile anti-corruption drive targeting both "tigers" and "flies" -- the terms assigned to different officials depending on their ranks and levels of corruption -- the popular campaign has so far shown little sign of losing momentum.
According to the SPP work report, close to 80 former Chinese officials at ministerial level or above had been investigated in the three years between 2013 and 2015.
"We will continue to maintain high pressure on corruption," Chief Justice Zhou said.
All in all, 54,249 officials were investigated for their involvement in 40,834 graft cases in 2015, according to Procurator-General Cao. The figures represent a slight drop from the year before, when 55,101 officials were probed in 41,487 cases.
They include 4,568 officials at division level and above and 769 officials at prefecture level and above.
On the "tigers" end, prosecutors looked into 4,490 graft, bribery and embezzlement cases that involved more than 1 million yuan ($154,083) each, Cao said.
More than 13,000 officials were investigated and punished for accepting bribes, in addition to over 8,200 for offering bribes.
On the "flies" end, more than 20,500 grassroots officials from the agricultural sector as well as land acquisition, social insurance, education and medicare services were investigated and punished, Cao said.