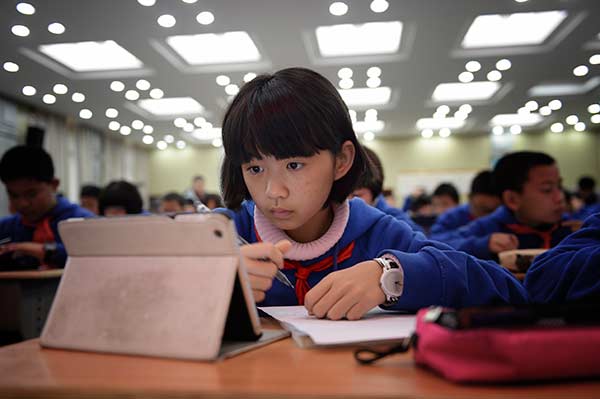 A student learns from an online open course in a middle school in Changsha, Hunan province on Nov 28, 2014. [Photo/CFP]
ONLINE TEACHERS reportedly earn more than some Internet celebrities. Previously, such teachers were criticized for their paid tutoring outside the classroom. Now they are praised for it, as online lessons given by a famous teacher can help promote education equality, especially for students in rural areas. China Youth Daily commented on Thursday:
It is okey if the online tutors are trainers or freelancing teachers independent of any other public institution or school. If a school teacher tutors online for money, it is the same as the teacher being paid to teach in school.
As a matter of fact, teaching an online course is no different from a teacher giving lessons elsewhere. The heated discussion results from the sensationalizing of such courses by the providers, so they can justify charging high fees for the courses.
The big advantage of online tutoring by famous teachers is that it costs parents less and more kids can benefit from the good teaching.
Fundamentally, such online tutoring shows the demand for better quality teaching and the need for education reform to ensure a fairer allocation of resources.